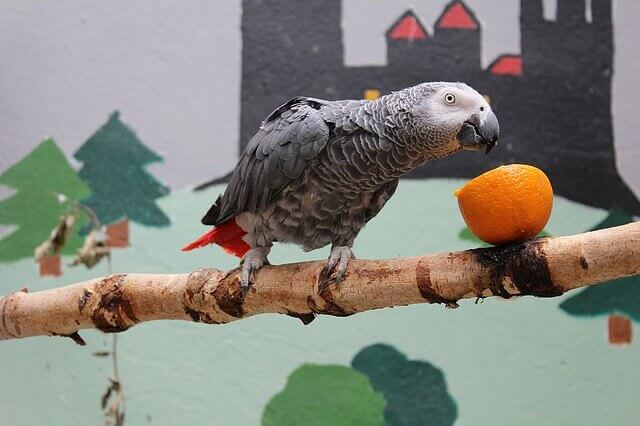 Feeding pet parrots healthy, varied diets does not have to be a costly or time-consuming process! These birds can eat not only pre-mixed seed and pellet mixes, but they can also eat some (but not all) of the same foods humans do. It is extremely important to provide a pet parrot bird food that supplies them the nutrition needed for optimal health.
What Kinds of Food Would Parrots & Conures Enjoy?
Parrots and conures have special nutritional needs that owners must be sure to meet. The term "parrots" itself is a loose grouping of several species, so owners must research their particular pet's species to determine their unique needs. After all, specific dietary requirements will vary based on whether the pet is a large parrot or a bird of a somewhat smaller stature, like a conure. Some generally good ideas, however, for bird food for a parrot might include:
Seed Mixes
Seed mixes are a natural source of food for many birds. However, owners should keep in mind that these mixtures alone are not a complete diet. Pet parents should look for seed mixes that are not too sunflower-seed heavy, as these seeds have a high fat content that can be unhealthy for indoor birds. They are, however, a popular mix for wild bird populations.
Pellets
Owners can also purchase bags of pellets for their pet bird, as they are a good choice for those who are out of the home for a good portion of the day. Owners must research pellet ingredients. Some cheaper brands use excessive amounts of colorings, chemicals, and fillers, which are not healthy.
Fruits
Fruit is an excellent, natural choice for feeding these animals. Some good choices that parrots love are mangoes, cantaloupe, bananas, and apples. Pet parents must remove leftover fruit after a couple of hours to prevent bacteria growth.
Legumes & Vegetables
Beans are excellent sources of protein and fiber. Owners can boil dried beans, then allow beans to cool before serving them. Bird keepers should remember to always cook beans; raw beans can be toxic to birds.
Other healthy dietary additions are vegetables. Many birds love broccoli, cauliflower, greens, carrots, kale, and peas after they have been properly washed.
Popcorn
Pet birds can also enjoy popcorn. They can eat this (small) snack either popped or unpopped. Those who opt for unpopped should boil the kernels in water for a few minutes to soften the hulls. Those who pop the kernels should avoid microwave popcorn. Microwave popcorn is high in both fat and salt. Bird keepers should find kernels free of added ingredients like these.
Whole Grains & Nuts
Whole grains and nuts are also excellent sources of protein. Oats, quinoa, and walnuts are especially nutritious for some birds. Regardless of the nuts or grains, owners must make sure they are both clean and unsalted.
Animal Protein
Additionally, giving a parrot a small amount of animal protein, such as egg, is also recommended. Parrots can also enjoy certain fresh flowers as well as other grasses and plants. Since there are many species of parrot, owners should research the types of plants they want to serve their pet to ensure they are not poisonous to the bird.
Foods to Avoid & Other Considerations
A few items to avoid include: both human and bird food with excessive salt, fat, and sugar; fried foods; coffee; tea; and alcohol.
When purchasing items from a pet shop, owners might want to look for foods in clear containers. This packaging makes it easier to double-check that what's inside is free of harmful contaminants like mold.
Final Thoughts
Those looking for a great family pet—and have the free space and means to care for one—might want to look into a large bird like a parrot. Bird food for these special animals will require natural items like fruits and veggies as well as occasional treats. These ingredients can all help compose a proper avian diet. The health of the bird itself is also crucial to take into consideration. Some animals, for example, will have allergies that others do not, meaning that owners must take care to select items free of allergens.
Disclaimer: This article should not substitute veterinary advice. Owners should direct questions to licensed professionals. The Association of Avian Veterinarians (AAV) offers a search engine for finding local vets.