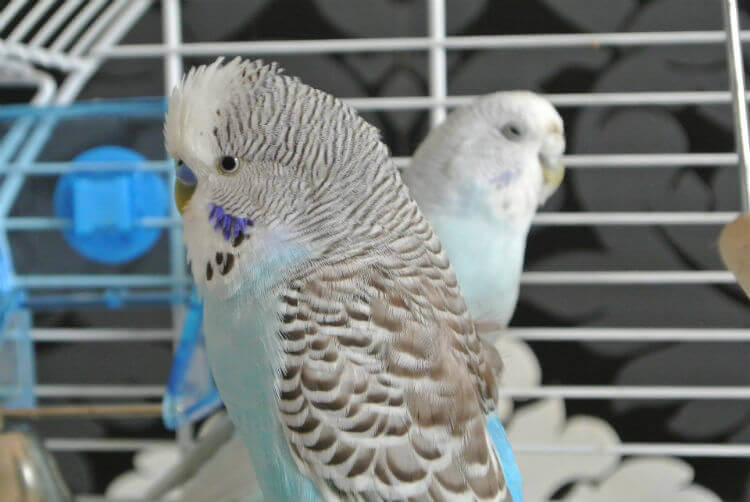 Pet birds love toys, but how do you know which toys a pet parakeet needs that are fun, safe, and will keep her engaged? This guide will give you tips on the top toys your budgie will not only love, but will do the double-duty of keeping her healthy and entertained!*
Parakeet Toys for a Healthy, Happy Bird
A parakeet, like any other pet bird, will need playthings for mental stimulation and physical activity. However, just because some toys work for some species does not mean they will work well for others. Budgies require certain kinds of toys in order to have safe fun and exercise.
Parakeets can see a whole spectrum of colors. So, they often enjoy bright and shiny toys. Pet parents can continually keep their feathered friends engaged by regularly changing out and mixing up the location of their bird's toys.
Swings
Parakeets get hours of enjoyment from swings. Your little budgie will love just perching on a swing toy hanging from various spots in her enclosure. Once she learns she can not just perch, but swing about? The entertainment possibilities are endless!
A swing bird toy can come in so many styles that can really liven up a cage: a hammock swing, swinging tire, or movable perch are all fun options. Choosing a swing that also incorporates mirrors, moving parts, or places to attach a chewable will keep your busy little friend happy, too! Because they are also affordable, you can pick up several swings at once. This way, you can swap them out every few weeks to keep things fresh for your beloved pet bird.
Chewables & Shreddables
Toys a pet bird will love (and can help her maintain a healthy beak) are chewable and shreddable biscuits and mats. The chewing action keeps beaks in prime condition, and the physical action keeps muscles strong.
Strings of stacked chew biscuits are often a species favorite, as well as mats of safe materials like seagrass or rattan. These come in unlimited designs, sure to keep your parakeet interested.
Parakeets need this activity to stay in good shape. Don't feel that your bird is "ruining" her bird toys when she chews them up; this is what they are for, after all! It is actually a critical part of a parakeet's daily routine. Just make sure the toy is species-specific, and made of materials safe for a parakeet to use and chew on. In other words, toys for a parakeet should always be free of harmful chemicals for this reason.
Mirrors
Parakeets love to look at themselves, so they'll often greatly enjoy mirrors in their bird cages. A mirror as a bird toy is extra important for solo birds. Budgies are very social and will spend time talking to their reflections, often checking up that their "friends" are still there.
Pet parents should try placing several mirrors about the cage and frequently change their positions to keep their pet parakeet engaged.
Ropes, Ladders & Chains
Climbing toys provide hours of exercise for parakeets. Ladders, ropes, and chains are therefore great toys for this species. Budgies can perch on them to rest when they aren't actively climbing.
These toys are also excellent for hanging bells and other trinkets. Owners should choose durable plastic toys or natural materials for something that can double as a chew toy.
Bells & Noisemakers
Parakeets find bells and rattle toys fascinating. They are very clever, and will learn quickly to produce sound from these types of toys.
Problem-solving keeps your budgie in top mental form. Many noisemakers also incorporate places to put food, which will delight a parakeet's innate desire to forage.
Final Thoughts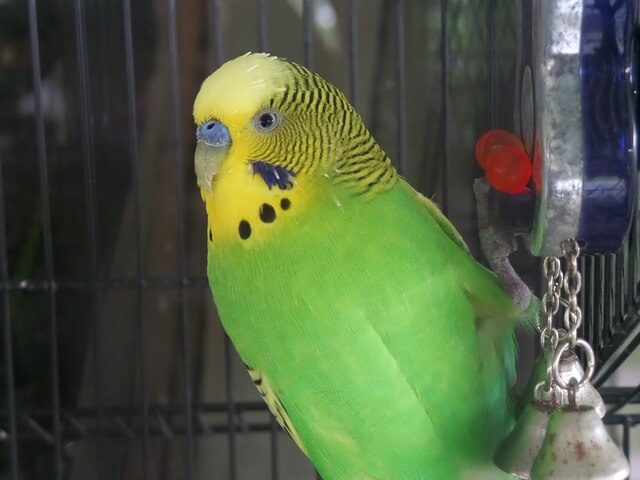 Parakeets are lovable, energetic birds that love to play! Pet parents need to get them the safest, best toys possible to ensure they get plenty of exercise and mental stimulation. Owners should shop around to get their pet bird a cage with plenty of extra free space. After all, there needs to be space for its occupant to not just stretch her wings comfortably, but also to hold all these exciting playthings. These considerations are all necessary to help a beloved birdie have a higher quality of life.
Whatever new toys you decide on, always make sure that they are species-specific, as not all bird toys work for all types of birds. After all, smaller, more colorful toys might not appeal to a large species of pet bird. A parrot, for example, will likely not find different toys for a parakeet or budgie, or even a cockatiel, to their liking. Conversely, a small pet may not even be able to safely play with toys designed for a larger animal.
Always do your research into not just brands, but specific products as well. Unfortunately, just because something is on the shelf of the pet shop does not mean that it is necessarily safe for your birdie.
Disclaimers/Image Credit*
Disclaimers: At the time of writing, prices and ratings are correct and products are in stock at Amazon. The views and opinions expressed in this article are those of the authors and do not necessarily reflect the official policy or position of the site owner or any brands and companies mentioned here. This article is purely for reference purposes and does not constitute professional advice and may not be reflective of the best choice for your unique situation. This site strives to provide as much accurate information as possible; however, sometimes products, prices, and other details are subject to change. Therefore, this site does not verify for the accuracy of the information presented in this article. This site does not assume any liability for any sort of damages arising from your use of this site and any third party content and services.
Disclaimer: This article is not a replacement for proper veterinary advice. Specific comments, questions, or concerns should be directed to a licensed veterinarian.Cover photo(s) used under license from Shutterstock.com. Olexander Kozak/Shutterstock.com.*