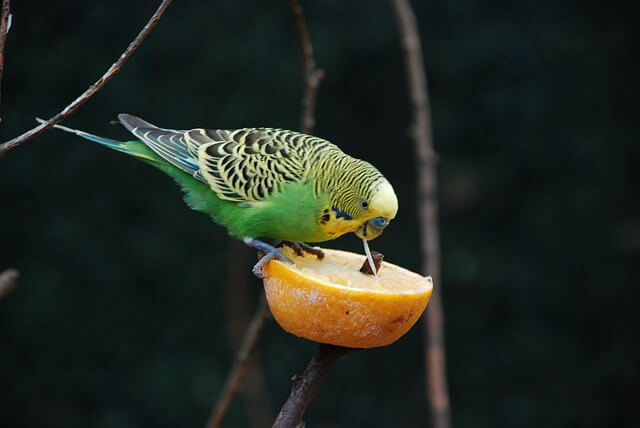 Before bringing home a new parakeet, owners will want to make sure that they know everything there is about feeding their pet bird. It is never a good idea to just go to the shop and pick out the first few products from the shelves. A new owner should take the time to research what foods will be best for their bird. After all, not all species of bird will like, or even need, the same things.
Seed Feed
The pet shop can have aisles devoted to bird food. There, owners can find a broad variety of bird foods. The most common type of feed is usually seed. Seed, according to many experts, should account for no more than a fifth of a diet for a parakeet. Bird food with any more than that can lead to an imbalance in nutrition. This imbalanced diet can lead to a much shorter lifespan. In other words, parakeets should never have seeds set out all the time, as it is bad for their overall health.
Pellet Feed
There are pelleted forms of bird feed that offer a total nutritional complex. However, this feed is often heavily processed, which means it may not be the best option to care for every pet. Some large bird species, like parrots, can do well with species-specific pellets as part of a larger feeding routine. For parakeets, it is all right to use in a pinch. Having a more robust feeding regime with more natural food products, however, might be best for budgies.
Balanced Diet
To ensure that a budgie gets proper nutrition, owners should consider giving them sprouted legumes, peas, grains, and seeds. These items will help supply all of the essential nutrients they need in order to maintain their health. Sprouting helps to ensure that all the benefits are there for the bird to consume.
Just as humans shouldn't shy away from eating their greens, neither should pet parents deny their feathered friends vegetables. Daily veggie offerings can help a pet maintain optimal fitness. Vegetables that parakeets love include kale, parsley, cilantro, sweet potato, and pumpkin. Owners should take care to avoid vegetables like avocados.
Owners can also feed their pet bird fruit. However, the sugar content of fruits means that owners should only offer them on a weekly basis. Additionally, owners should take care to ensure fruit is free of seeds. These factors are especially important to remember for a small pet like a budgie.
Bird keepers must remove offered perishable goodies after a few hours. This simple but necessary step reduces the chances of mold and bacteria growing on a pet's food.
Other Considerations
All of these food items will need to be properly placed in a budgie's cage. Pet owners must use clean bowls and dishes or another type of specialized bird feeder or waterer to give their feathered friends access to their snacks and meals. Owners must take care to place these supplies away from perches, so as to help keep them free of droppings.
Since parakeets are naturally curious animals, owners might also consider finding toys that can hold food within them. This can encourage a pet to engage in active play, as they will want to play with the toys to get the treats inside. Some owners also hide treats in strategic locations to let their birds forage for food, as they would have to in nature. This can make feeding time not only nutritious, but also exciting!
When buying food or toys for a small bird like a parakeet, owners must ensure that the products are species specific. In other words, not all birds will have the same nutritional needs, so their food should reflect that fact. Bird food for a small bird will vary in not just ingredients, but also in quantity, than that of food designed for a larger animal like a parrot.
Final Thoughts
Feeding a small pet parakeet can be simple, as long as they are getting all the nutrition they need. Pet parents must shop for feeds that are more natural, and focus less on processed products for their parakeet. Bird food for these birds should be well-rounded, full of nutrient-dense items like vegetables. Seed is fine in small amounts, and a budgie diet should be completely free of some items, such as avocado. The more owners do to make sure that their parakeet eats healthily, the better their pet's health will be.
Disclaimer: Always consult a vet before adding new items to the diet of a parakeet.