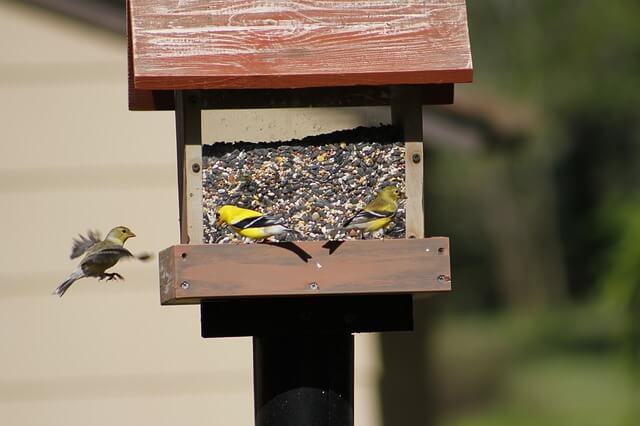 Whether kept as a small pet or fed in the backyard, finches have specific dietary needs. Unfortunately, these needs are often overlooked by commercial pet bird food companies. Like most animals, finches require an assortment of nutrients. These nutritional requirements include proteins, fats, and carbohydrates. Bird enthusiasts and pet parents must take care when feeding these birds to provide them what they need to thrive.
Generally Acceptable Foods and Products
Depending on the species, they may have other nutritional requirements as well. However, most of these birds share some, if not most, dietary needs. Although primarily seed eaters, individual birds have preferences when it comes to seed types. All birds will benefit from additional sources of nutrients in their diets.
Finches often prefer millet seeds or grass seeds. Occasionally, finches will selectively eat their favorite seeds from a commercial seed mix, which can result in nutritional imbalances if it is low quality or if they receive no other food. Avian enthusiasts should supplement these diets with fresh greens, fruits, and vegetables. These can include cherries, pears, plums, strawberries, blackberries, apricots, peaches, and figs. Finches will also eat small insects and grubs; however, preferences for this will vary by species and the individual animal
Pet Bird Finches
There are a variety of finch species that are often kept as pets. Common types include the Zebra and Gouldian. Both of these varieties are originally from Australia. Because of this, their diet was heavily shaped by seeds commonly available in their native region. For these species, grass seeds are a large component of their diets. They do not frequently consume insects.
Wild Birds
The most common species of finch found in backyards is the House variety. This species has a varied diet, and they typically forage for their foods. Specific components will vary based on region and season. According to the Cornell Lab of Ornithology, this species' diet can include mustard seeds, thistle, mulberry, poison oak, berries, figs, apricots, and pears. Unlike many pet finch species, House finches—and other wild birds—have a preference of black oil sunflower seeds. Many commercially available wild bird food contains this type of seed as a result. Bird waterers and feeders can be a great place to store bird seed in a strategic location in the backyard for optimal birdwatching.
Foods to Avoid
For any species, there are foods that are potentially toxic. Some foods to avoid giving to these birds include acorns, nettles, avocado, peanuts, onions, mushrooms, and chocolate. Other foods that are low in nutritional value, such as lettuce, should also be avoided.
Final Thoughts
Finches have dietary needs that are not often addressed in low-quality commercial products. Owners and enthusiasts can care for these animals by incorporating high-quality commercial bird food and treats with these guidelines. This way, pets and backyard finches can enjoy a more diverse and nutritionally complete diet.
Disclaimer: This article is not a substitute for proper veterinary advice or care.