About Top 10 Best Dog Treats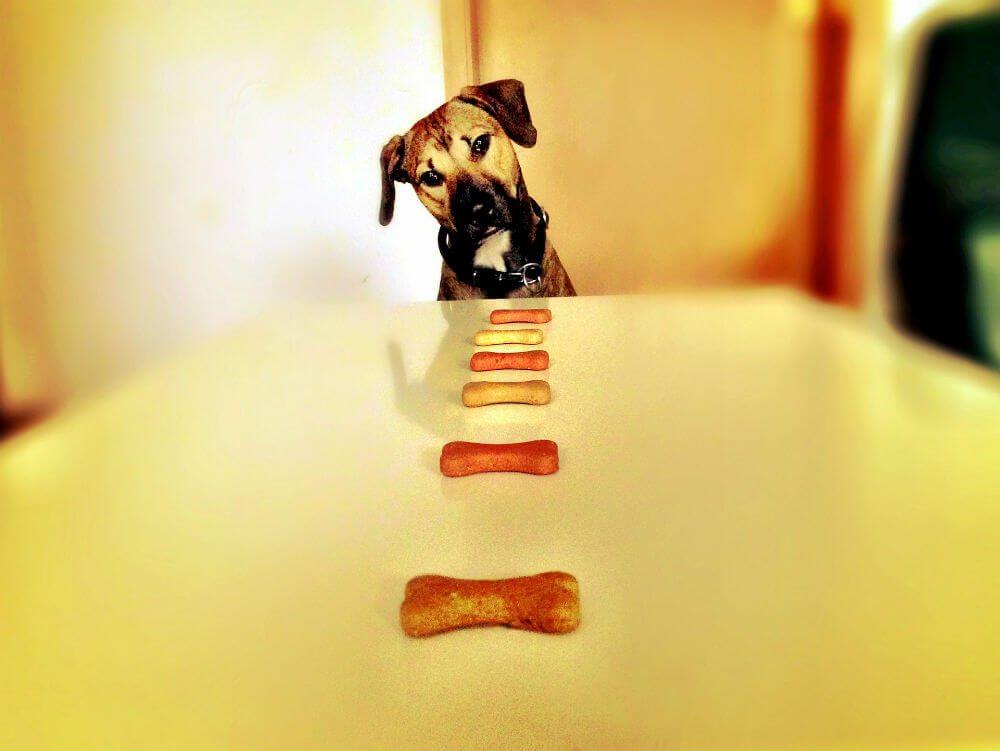 Top 3 Best Dog Treats
Want to see our top 3 picks at a glance? We at Top10.Today have selected the 3 best dog treats to buy from our featured list based on different criteria. We think they really stand out from their competitors:
Best Overall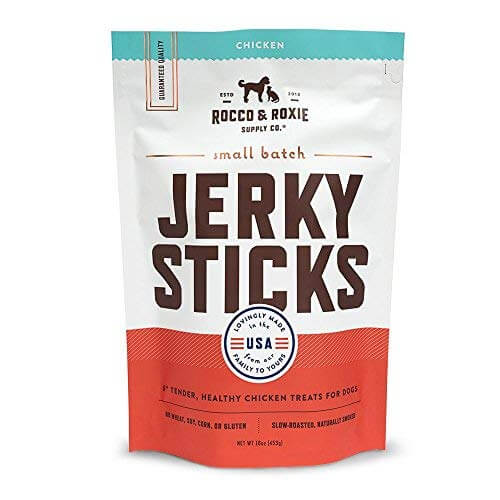 Rocco & Roxie Gourmet Jerky sticks tops our list with a 9.8 rating! Why do dog-lovers and doggos alike seem to love these snacks? Well, they come in 3 tasty flavors: chicken, turkey, and beef. Pet parents can feel easy feeding their puppers these morsels as they do not contain ingredients like wheat, corn, gluten, or soy. How much are they? Chicken and turkey in a 16 ounce bag currently costs $24.97, with the beef variety coming in a little cheaper at $19.97 on Amazon.
So, while these goodies might not be the cheapest on the market, we think it's worth spending a little extra to spoil our beloved fur babies with something this great! (And Amazon also offers a "Subscribe & Save" option to make these morsels even more affordable).
Pros
Made in the United States
Does not contain corn, wheat, gluten, or soy
Resealable bags
Meat listed first on ingredients label for all three flavor choices
Cons
Best Value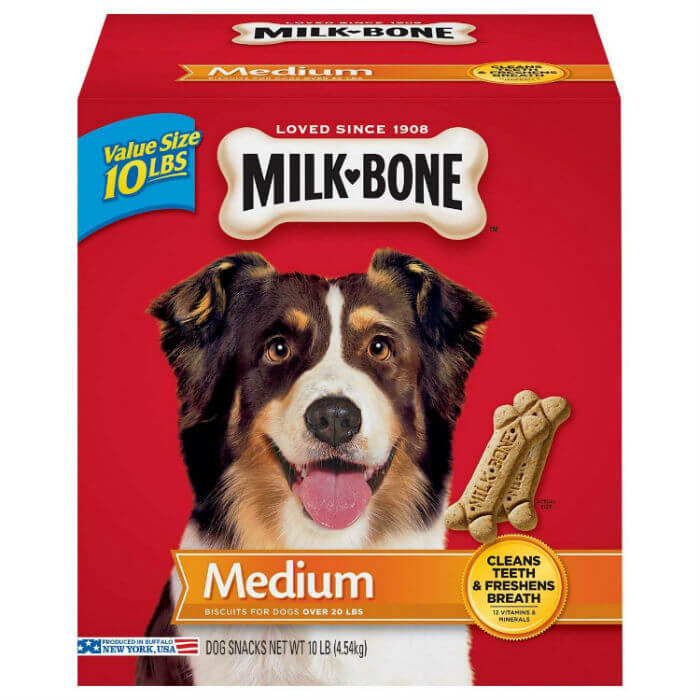 Milk-Bone's Original Treats for medium-sized dogs not only boasts an impressive 9.6-rating, but these snacks are also the best bang-for-the-buck on our list. 10 pounds of goodies for only $11.39 on Amazon? With over 300 treats in a bulk package, that averages out to about 3 cents a morsel! It's hard to beat a deal like that. Dog owners should be advised, though, that this brand's products do tend to use more wheat-based ingredients than other companies on this list. As such, owners must take care to feed these treats to dogs in moderation.
Pros
Price
Produced in the United States
Contains vitamins & minerals
Cons
Contains many plant-based ingredients
Best Price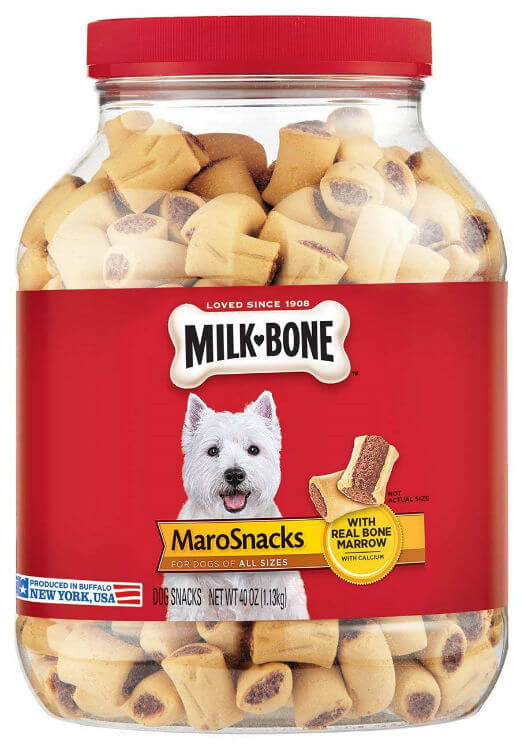 Milk-Bone's MaroSnacks are the cheapest option, period, on this list. They are produced in New York with real bone marrow, and go for $8.24 for 40 oz. or $3.99 for a 15-oz. pack on Amazon.
Pros
Contains real bone marrow
Price
New York-produced
Cons
Wheat flour is first listed ingredient
Artificial colors
Top 3 Best Dog Treat Brands
Looking for not just great individual dog treats, but awesome brands to come back to? Look no further! We've selected our favorite dog treat brands for owners' convenience:
A bit of background information for those who were confused to see Merrick as the seller of Zuke'S Mini Naturals dog treats on our featured list: Merrick's Pet Care announced in 2018 its decision to become one organization with Zuke'S Pet Nutrition (currently owned by Nestlé Purina). We currently love Merrick's branded treats for their diverse offerings of snack types, flavors, and textures, all-the-while keeping their snacks pretty healthy.
Some pets are naturally picky eaters, and the wrong texture can turn them away from an otherwise scrumptious morsel. This brand has plenty of different-textured products, including oven-baked biscuits and cookies, soft and chewy bites, jerky, and even dental chews. This brand also offers treats made primarily with quality ingredients, including meat proteins and vegetables like peas and potatoes. They also come in great flavors like turducken and applewood bacon.
Pros
Quality ingredients
Great flavors
Incredible variety
Cons
This company produces one of our favorite lines, BLUE Wilderness. This company not only produces snacks, but also natural dog food. Why do we at Top10 love them so much? For one, they provide a variety of crunchy biscuit flavors, including standard options like chicken or duck, but also more adventurous ingredient combinations like alligator and catfish. BLUE Wilderness grain-free biscuits are also rich in meat-based protein, something canines crave. Their BLUE Wild Bits line of dog training treats are also protein-dense, and free of artificial colors and flavors.
Pros
Quality grain-free ingredients
Great flavor variety
Resealable bags
Cons
Might be too crunchy for some canines
We like this brand's Bear Crunch line. These mini, bite-sized goodies are made with some pretty wholesome ingredients, are free of grain, and are low in calories, making them great for training. Those looking for interesting flavor combinations might want to try this brand out, as the Bear Crunch line flavors include: turkey, sweet potato, and cranberry; chicken, pumpkin, and apple; and bacon and blueberry.
Pros
Low in calories
Interesting flavors
Primarily use quality ingredients
Cons
Honorable Mention
Old Mother Hubbard didn't make our top 3, but barely so. We think this brand might be worth trying for pet owners looking to branch out and try something new and relatively healthy. This brand offers oven-baked, all natural dog treats and training snacks.
Pros
Natural ingredients
Great flavors
Cute packaging
Cons
In-Depth Buying Guide: How to Buy the Best Dog Treats
Pugs, Golden Retrievers, German Shepherds, Chihuahuas. . . dogs come in all different breeds, sizes, and varieties. Goodies for man's best friend are as equally diverse. Treats come in the form of cookies, sticky, jerky, bones, biscuits, and more. But this wide selection doesn't mean figuring out the best treat for a dog has to be complicated! Knowing more about dog treats and health concerns can take the mystery out of trying to shop for them.
Considerations when Selecting Treats for Dogs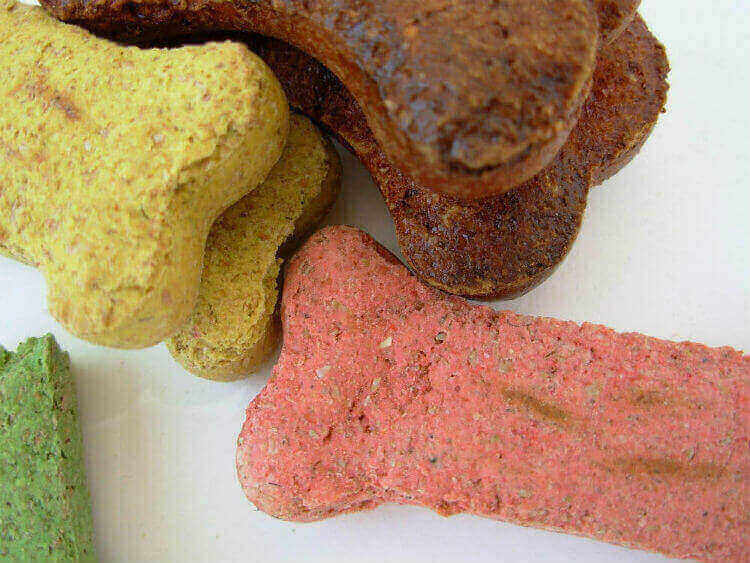 Just buying the first goodie at the shop is tempting. It might not be best for the pet (or pocketbook), though. There are some serious factors to keep in mind before buying dog treats, including:
Age, breed, and size of the animal. It is important for dog parents to keep the breed and size of their fur baby in mind when selecting any kind of dog food. A small pet will probably need easier-to-chew morsels while a large hound can get away with eating something with more calories. Fido can also choke or develop intestinal blockages if he gulps large pieces down. Furthermore, a senior dog will likely prefer something soft, as crunchy treats can be hard for him to chew. This is why it is important to choose products that coincide with the animal's size, age, and breed.
Producer and manufacturer. Equally important is who makes these goodies and where. It's a safer bet to select snacks from reputable companies. It is best to avoid buying from foreign countries and questionable sources.
Ingredients. Ingredients also matter! They should be high quality with clearly labeled contents. Whole or natural ingredients are preferable to by-products or artificial items.
Pup's wellbeing. Animals with specific health conditions need to avoid certain treats. Fortunately, there are treats available for dogs with dietary concerns, like diabetic dog treats or those only made with natural ingredients.
Personal preference and cost. It's up to the pet's personal preferences in texture and taste—as well as the owner's wallet—that will help determine what the best dog treat is.
Types and Flavors of Treats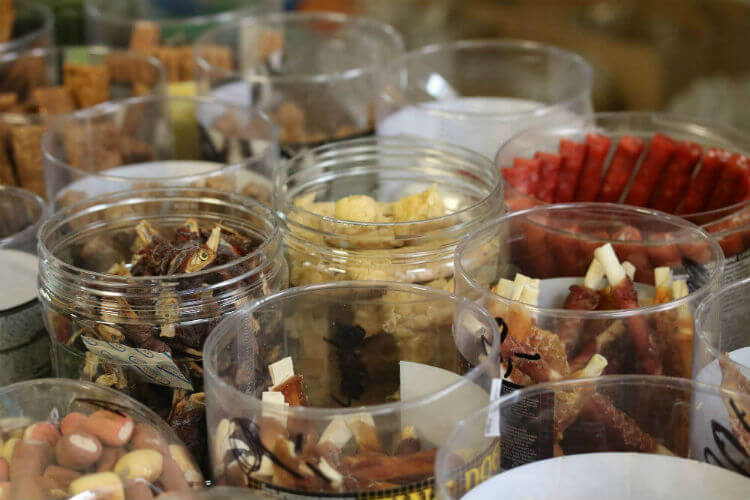 Dog treats come in a variety of shapes, sizes, textures, and flavors. One visit to the pet shop will confirm the abundance of dog goodies. These can range from soft and chewy to hard and longer lasting. Every pooch has a unique personality, and their preferences for snacks are no different.
Texture: Soft, Chewy, or Crunchy?
A soft dog treatcan be easier to chew for younger puppies or adult and senior dogs. Often, softer snacks will be in the form of dog biscuits or cookies. This can make it easier for a puppy to chew. Many pooches also just love the texture of this type of treat. This can make soft varieties great dog training treats that will provide an animal with instant gratification for completing a task.
Soft dog treats can come in several different flavors and varieties. There are literally shelves full of delicious options at any pet shop! Pumpkin, chicken, peanut butter, sweet potato, salmon, yogurt, and bacon are all popular, natural flavor options. Even the pickiest eaters will find something to enjoy.
Other great varieties include crunchy dog treats. A natural instinct to chew can be satisfied with one of these tasty morsels. Harder or chewier morsels can come in the form of sticks, bones, and jerky treats.
Freeze-Dried Dog Treats
Freeze-dried options are becoming quite popular. This type of snack can be loaded with nutritious ingredients and are generally meat-dense. They can have a longer shelf life and don't require refrigeration. They also have less processed ingredients than many other varieties.
The way these snacks are made eliminates the need for many of the additives present in other traditional pet treats. The freeze-drying process removes water from meat. By doing this, it makes the meat substantially lighter and smaller. However, removal of water does not change the protein levels. The results are small, protein-packed bites free of extra moisture.
Potential Health Benefits
Dog parents reward their beloved fur babies with some snacks for a variety of reasons. Owners shouldn't feel too guilty about giving Fido the occasional morsel: some treats may offer benefits.
Dental Health
Dental dog treats and chews are one such example. They can be made of hard rubber or can be edible. Just like humans, canines can suffer from dental problems. These specially formulated treats may help reduce plaque and tartar buildup. Even better, they can significantly reduce bad dog breath. The friction caused by chewing removes plaque and tartar from teeth. This action also massages the gums, which helps with circulation.
Note that not all dental dog treats are created equal. The Veterinary Oral Hygiene Council or VOHC has tested several of these chews. Dog treats that meet certain criteria are awarded their seal of approval. These criteria include demonstrating effectiveness in plaque and tartar removal. These products will have a VOHC approval seal that is visible on the packaging.
Owners should never give pets something for dental benefits without supervision. It's true that many animals consume these without any ill effects or concerns. Some, however, might encounter problems. Owners should read safety labels before giving their dog any new toy or food.
Special Ingredients
Of course, what treats are made of can also provide additional benefits for Fido. For animals with specific dietary needs, there are several types of dog treats: Natural, grain-free, gluten free, high fiber, low sodium, low fat, and low protein are just a few of the many options available for animals with specific dietary needs.
Grain-free snacks especially have become popular. This is because many people want healthier alternatives to traditional snacks. These products tend to be higher in protein and animal fats, which makes them appealing to canines who are picky about their treats. They can also be a good choice for pets that have sensitivities or allergies to certain foods. Owners should be cautious when selecting these types of goodies. Not all dogs are candidates for a this type diet. It is best to have a discussion with the veterinarian before switching Fido to a grain-free diet.
Dog food and treats with turmeric may also provide some added benefits. Owners looking for a small way to help out an arthritic dog might find these goodies helpful. Eating this flowering plant is said to improve both hip & joint and skin & coat health.*
Homemade Dog Goodies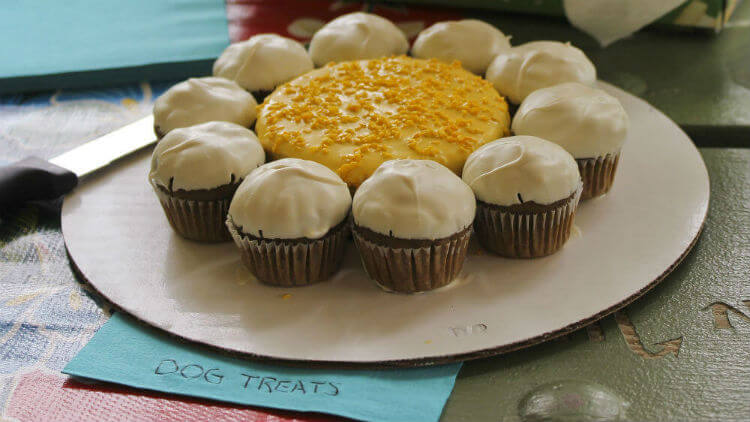 Store-bought snacks are fine. Nothing tastes quite like a homemade treat, though. This is why many people make their own dog biscuits and cookies. A quick search on the Internet can turn up thousands of recipes for homemade goodies. Many use common household ingredients. This can really reduce the cost of treating a dog. It's like giving her gourmet snacks on a budget!
People interested in making their own treats need to be careful, however. Peanut butter and sweet potato might be common, safe suggestions when baking homemade dog morsels. But not all human food is safe for pooches. Owners should always use quality items that are safe for a dog to consume. It only takes one bad ingredient for disaster to strike, so an owner really has to know what she can and cannot feed her dog.
Dog Health and Safety Concerns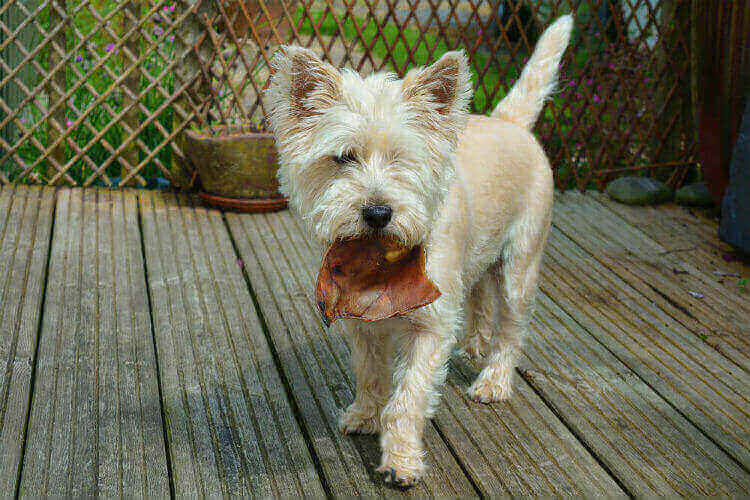 A snack that's fine for one pet might not work for another. Many seemingly harmless snacks can cause digestive upset or lead to sometimes life-threatening conditions. Some concerns include:
Rawhide dog treats
Rawhide treats have been around for ages. That doesn't mean they are always safe, though. They can cause all kinds of issues like stomach upset, cuts in the mouth, and choking.
The American Kennel Club recommends caution when owners provide pets with rawhide treats. A dog that is a softer chewer or slow eater might be fine with this type of snack. He will be less likely to bite off larger chunks and more likely to thoroughly chew the product before swallowing. As such, a heavier chewer or faster eater is more at risk when consuming rawhide.
There are a few guidelines to follow that can protect Fido if he eats rawhide, including:
Asking a vet for specific advice like treat-size suggestions.
Finding him a quiet place away from other animals. If relaxed, he might not feel pressured to gulp the treat down before another dog can swipe it.
Never leaving him unsupervised when eating.
Replacing the snack when it becomes small enough to present a choking hazard.
Overeating
Dogs are capable of overeating as much as people are. Too many snacks here and there can really add up. As in people, it's only natural that excess snacking can cause diarrhea, bloating, and obesity in animals, be it a cat or dog. These can develop into other serious health concerns.
A good rule of thumb is to give treats in moderation. They should never take up more than 10% of a regular dog diet. Of course, a dog's breed and size are important factors when determining how many snacks are too many. Products often have charts that give recommendations based on the pet's size.
Other Uses for Dog Treats
Little treats here and there are a natural way to show pets some love. There are other practical uses for them, too, including:
Training a Dog
Food can be a powerful motivator. This makes it valuable as a training tool for both puppies and older canines. People often give pooches special rewards for a job well done. It's best to use bite-size pieces of food that a specific pup enjoys. This will keep the animal focused and looking forward to the next reward.
Snacks in between Meals
Sometimes people need a pick-me-up in between meals. Canines are no different. A little snack here and there can tide them over to their next meal. Fortunately, low-calorie dog treats are available to reduce the chances of fattening up a hungry Fido. (Pet parents should resist the natural urge to give fur babies extra dog treats when they beg. It's hard to resist, we know, but their health comes first!)
Final Thoughts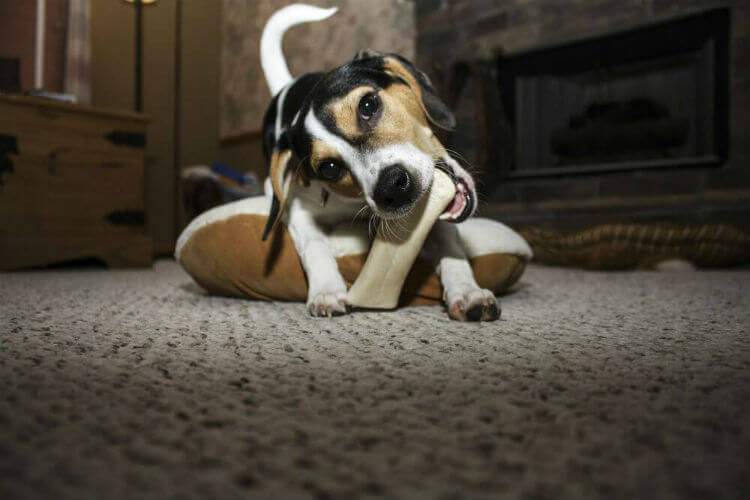 It's easy to see that there are plenty of options for pet parents looking to reward their fur baby with something tasty. One of the greatest indicators of what the best dog treat is the pet itself. A dog's age, breed, size, health restrictions, activity levels, and other individual wellness needs all play a role in which goodies will work best.
There are several ways to pick out the perfect snack. Specific concerns about certain products should be directed to a veterinarian. No question is ever too minimal for a vet to answer. That's what they're there for, after all. They may even provide prescriptions for veterinary diets if necessary. Reading articles and blogs and talking to other owners can also be a good way to get recommendations. Some pet stores even let people bring their canines in; this can make sniffing out dog treats even easier. Rewarding and taking care of man's best friend has never been easier!
Disclaimer: This article should not replace the advice of a licensed veterinarian.
*Some early research suggests the anti-inflammatory properties of curcumin, derived from turmeric. However, research has not conclusively proved that curcumin is an effective anti-inflammatory agent.