Best Dog Carriers Product Reviews
We love animals here at Top10. We've taken the time to look at some top products available on the market today. Trust us: there's a lot of dog and cat carriers out there. Wading through a sea of products? Nobody has time for that! We've selected some our favorite pet totes that pet parents and doggos really seem to love. Check them out below!
Best Overall
It's a tie! The Sherpa mesh airline-approved pet carrier and Gorilla Chip pet travel carrier bag both earn a perfect 10 rating from us! Let's break each one down: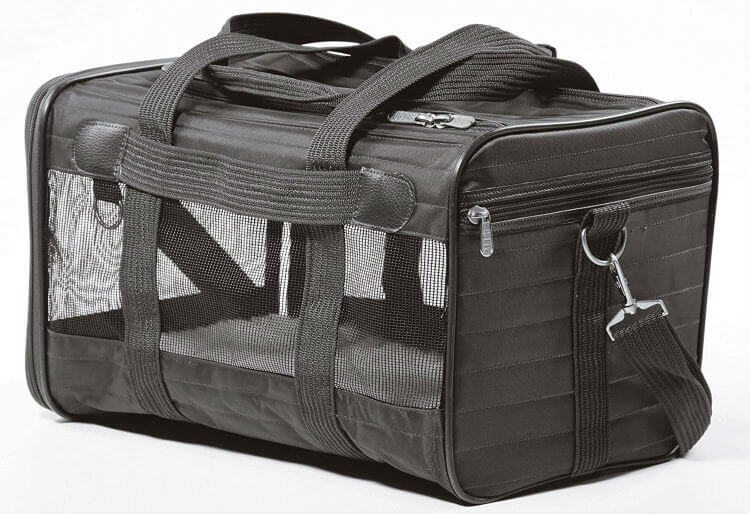 This Sherpa original deluxe pet carrier a lot to offer. The company has three sizes available: small, medium, and large. As such, most pet parents will be able to find a carrier from this provider that can safely transport their furry friend. Some great features include its various straps, including a shoulder strap for easier transportation, along with outside pockets for storage and a machine-washable, fleece–lined bottom. And function doesn't mean sacrificing style! This brand offers several colors from which to choose. These airline-approved soft carriers are big enough to hold a pet without giving them room to move around and potentially hurt themselves.
The medium-sized option currently goes for $34.00 on Amazon. It might be a bit higher than some, but we also feel that its high-quality construction and comfort make it well worth the cost.
Pros
Various sizes available
Mesh and fleece materials for comfort and plenty of ventilation
Easy cleaning
Variety of colors
Cons
Price
Soft sides provide less protection from bumping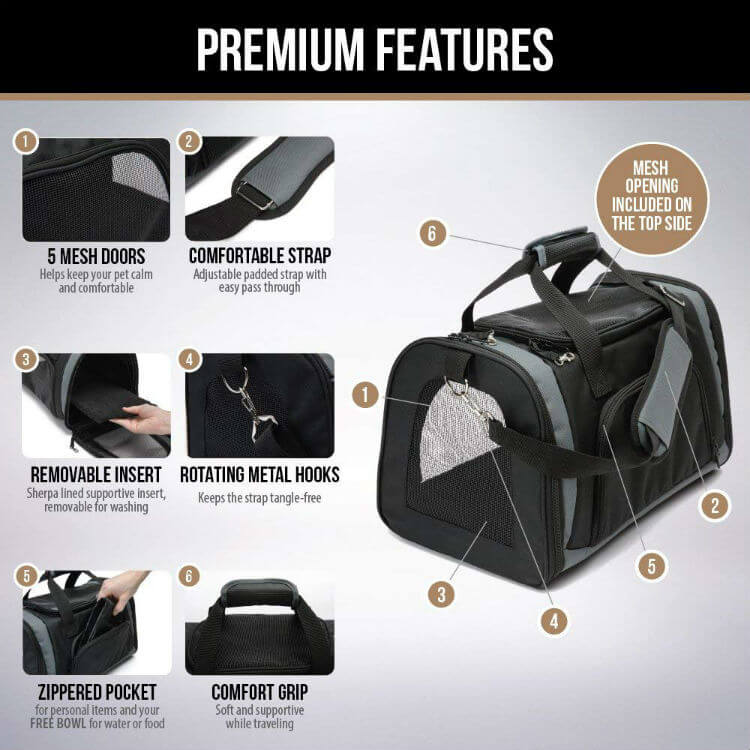 The Gorilla Chip tote is also impressive. It too boasts mesh panels for comfort and easier breathing, and is also airline approved by several lines. This pet carrier comes with an easy-to-store bowl, a nice bonus with this purchase. The floor insert is also removable, which makes cleaning a bit easier. The company is so sure of its product's quality that is offers a 10-year warranty!
Unfortunately, this mesh crate only comes in one size: 17 inches by 11 inches by 11.4 inches. It also is not the most exciting color. . . this pet carrier is black only. Interested individuals can go on Amazon and buy one for $22.99.
Pros
Great price
10-year warranty
Bowl included with purchase
Removable floor insert
Cons
One size available
Only one color option
Soft sides provide less protection than hard sides
Best Expandable Carrier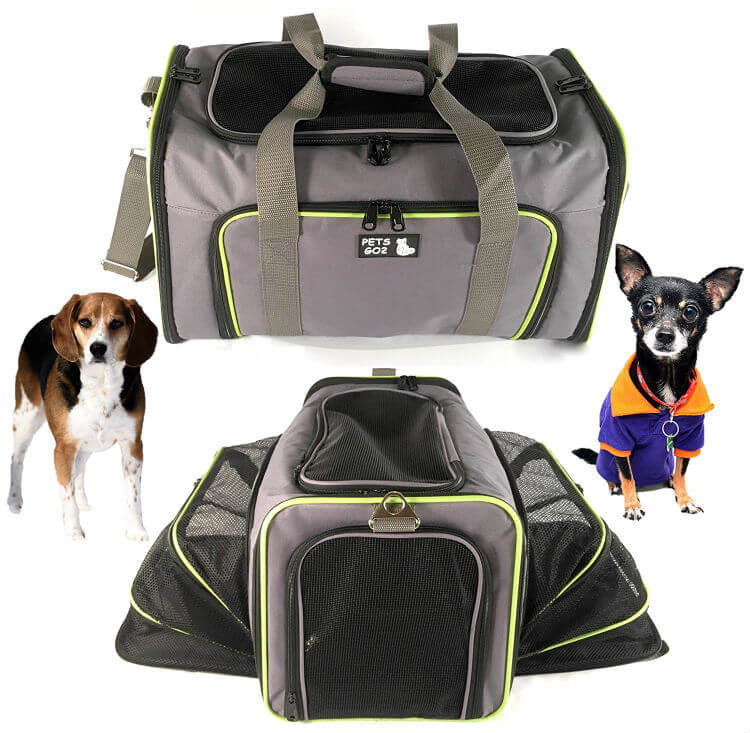 The PETS GO 2 expandable soft-sided pet travel carrier for both cats and dogs is the best expanding bag on our featured list. It earns and impressive 9.9 rating, and it's easy to see why. This airline-approved, soft-sided travel kennel can easily transport animals up to 10 pounds in weight. It comes with a padded shoulder strap for owners' comfort, and a hand-washable cushioned bottom for pet comfort. Offered in a variety of colors, it can also fold flat when not in use, making it easy to store. It currently goes for $39.94 on Amazon.
Pros
Expandable
Soft strap for comfort
Soft bottom for pet comfort
Easy cleaning
Variety of colors
Cons
High price
Only holds small dog breeds
Best Hard-sided Crate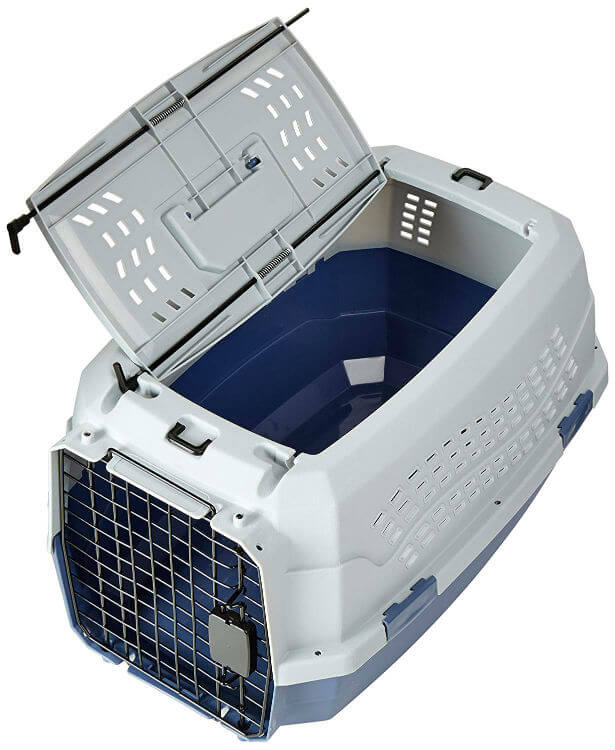 For owners looking for more stability and protection from a traveling crate, Amazon Basics pet kennel is a great choice to consider. It comes in two size: 19 and 23 inches. It has two doors, on the front and on the top for easy access and loading. The body is made of hard plastic and the front door steel wire. Owners worried about needing more stability can use the included additional screws to add more reinforcement. Its sturdy construction, however, means it isn't exactly comfortable: owners should lay a towel or other soft material on the bottom of the crate so their pets will be more comfortable traveling. This item is available for $29.99 on Amazon.
Pros
Hard sides provide greater protection
Durable construction
Two sizes available
Two doors
Cons
Less comfortable than others carriers
Now that you've taken a quick peak at our top picks, check out our an in-depth buying guide below. We at Top10 think pet parents can find it really helpful when selecting a safe carrier for their beloved fur babies. Read on for more information about how to buy the perfect pet carrier for your dog!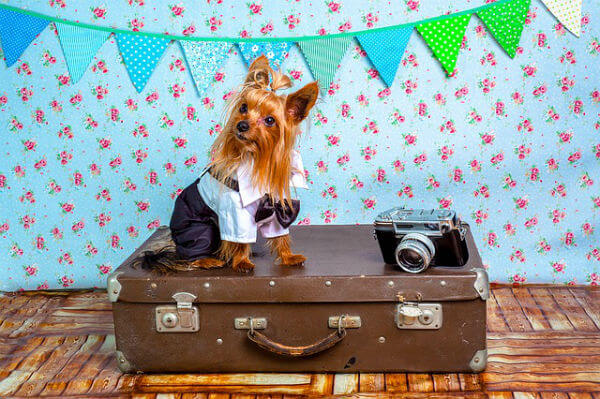 Best Dog Carriers Buyer's Guide: How to Buy the Best Dog Carrier for your Pooch
It's no secret that dog owners love the company of their canine companions.
All pets needs to visit the vet regularly. And at some point, you may want to take them travelling with you on an airplane or a long road trip. Or perhaps you have something more local in mind, like running errands or hiking a nearby nature trail, but your dog is just a bit too small to easily keep up with you on foot.
Regardless of the circumstances, a dog carrier will help ease travel for both you and your pet. (Win-win!)
That being said, there are many different carriers on the market, and some may fit your needs better than others. Before you purchase a carrier, you should do a bit of research to learn the key differences between the different styles of carriers and which bonus features, if any, you would like to invest in.
Whether you go to a physical pet shop or shop online at places like Amazon, let's take the mystery out of buying travel kennels. We'll start with breaking down the different styles and types available.
See also:
Different Types of Carriers: Which is Best for Your Pet?
Which tote works best for you and your pet is a matter of pet size and weight, travel method, budget, and personal preferences. Keep these factors in mind when looking for the best dog carrier for your pooch.
Soft-sided carriers
Soft-sided dog carriers are built to be flexible travel carriers. They are lightweight, easy to carry, and can sometimes fit under the seat of an airplane, depending on the size.
Many a dog carrier has soft, mesh windows for ventilation and visibility while keeping the pet secured safely within the carrier. Many have a fleece or otherwise cushioned bottom to make traveling just a bit cozier. Dogs seem to find soft-sided carriers more comfortable than their hard-sided counterparts.
Expandable soft-sided carriers are also an option. They have additional compartments owners can deploy to give their dog a bit more room to roam around, or to fit a larger animal.
Unlike hard carriers, a soft carrier can easily fold up for neat storage when not in use.
Soft-sided Kennel Pros
Comfortable
Well ventilated
Easy storage
Soft-sided Kennel Cons
Hard-sided Travel Kennel
These carriers are built with a rigid exterior shell usually made of plastic and typically feature a hinged steel-wire door. Hard-sided carriers are known for their durability, and will offer more protection to a pet than soft-sided varieties.
Their sturdy design also makes it very difficult for occupants to damage them from the inside or escape. If your pup is on the larger side, or frequently escapes from his or her kennel at home, a hard-sided kennel will him securely inside for the duration of your travel.
While most hard-sided dog carriers are fairly standard in design, there are some variations in features that you may want for your pet. Most hard carriers will have a front-loading door, but some varieties also come with a secondary top-loading door so you can lift your pet in and out.
Hard-sided Crate Pros
Sturdy design for added protection
Increased durability makes escaping harder
Hard-sided Crate Cons
Usually less comfortable than soft varieties
Can be more awkward to handle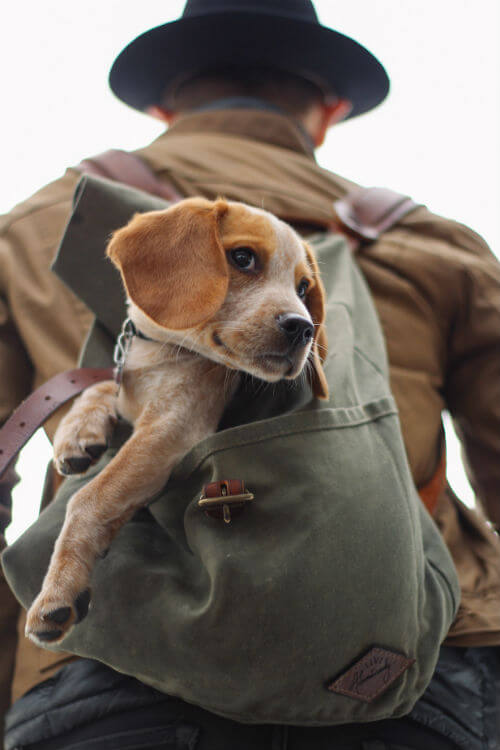 Dog Backpacks
Specially designed backpacks can be a great option if you're often on the go with your pet but need your hands free.
Since it can be worn like a traditional backpack, it frees up your arms unlike a traditional carrier, which needs to be carried or rolled on wheels like a suitcase. This makes everything from airport travel, hiking, and running daily errands easier. Additionally, some styles come in a front-pack design, if you prefer to wear your dog on your chest for interacting with her on the go.
Backpacks are a popular option for hikers and adventurers. Many owners love bringing their dogs into the great outdoors. However, sometimes it is difficult to do so because of their size. A small dog may not have the stride or stamina to keep up with her owner. With a backpack, that isn't an issue! If you love to hike and have a puppy or smaller pooch, he can ride along in the dog carrier when it needs a break while still enjoying your company, the beautiful scenery, and thrill of adventure.
Far, far away from the hiking trails of the backcountry, backpacks are also popular among city dwellers. By tucking your pup into a backpack, you can easily board a train, hop into a taxi, or walk a distance longer than your pet's little legs can carry him.
The safety and security of a backpack—as opposed to merely walking on a leash—is an added bonus for dogs who suffer from anxiety or are uncomfortable around large groups of strange people and dogs.
One potential drawback of the backpack is that it only works for dogs that are fairly small.
Dog Backpack Pros
Keeps owners' arms free
Security bonus for anxious pups
Easy travel for both hiking and urban adventures
Dog Backpack Cons
Usually just for small pets
Dogs get less exercise than walks with leashes
Pet Strollers
Just like human babies, our fur babies can also enjoy the convenience and luxury of a stroller.
In addition making traveling and commuting easier for your pet, there are additional benefits that traditional carriers don't provide.
Strollers are a great option for athletic pet owners. If you enjoy running or jogging but your dog is too young, small, or old to keep up with your athletic stamina, a stroller is the perfect accessory for allowing them to tag along without slowing you down or shortening your expedition. They're not hands-free like a backpack, but they're also better for running or jogging, as they won't as easily jostle your pet inside. While not recommended for bumpy dirt paths or off-roading, this carrier provides your pet with a smooth, steady ride on flat surfaces like sidewalks and streets.
Strollers can also be extremely helpful for dogs who are elderly, disabled, or recovering from an injury. If your dog can't get around very well on his own, you can use a stroller to take him on walks and ensure he still has plenty of opportunities to enjoy fresh air and sunshine.
Pet strollers for dog or cat companions are usually designed just like human baby strollers: they have handles, wheels, hoods for shade, and often compartments or areas to store things. Pet strollers usually come with a mesh cover or leash clip to help prevent escape. Many only come with one seat, although two-seat varieties are available for purchase.
Pet Stroller Pros
Easy to jog or run with a pet
Allows for enjoyment of the outdoors without bodily strain on the pet
Pet Stroller Cons
Quality ones can be expensive
Pets won't get exercise
Double Carriers
Okay, so these options all sound great. . . for owners of just one pooch. Most carriers are designed for just one pet, but double or divided carriers are designed to safely transport two. For pet owners with multiple pets, a double carrier can streamline transporting pets as opposed to having to haul two separate carriers.
One limitation with double carriers is that they understandably only accommodate smaller dogs. Each carrier has different weight restrictions, so be sure to familiarize yourself with a carrier's carrying capacity and divide it in half. For example, a carrier built to handle up to 40 pounds (lbs) can safely accommodate two dogs that weigh up to 20 lbs each.
Since dogs will have to share such a small space, owners need to know the temperament of the carrier's potential occupants. If your two small dogs don't get along at home, they probably won't in these products, either.
Double Carrier Pros
Easier transport for multiple pets
Double Carrier Cons
Dog Slings
Much like a baby sling, a dog sling is a tote that slips around the shoulder and chest to hold a pooch at chest level. This specialized dog carrier bag can free hands and be a fun way for a doggo to share a sunny day with you without having to tucker out his little legs.
Dog Sling Pros
Easy, fun transport for small pets
Dog Sling Cons
For smaller pets only
Escape is easy
Dog Purse Carriers
These are exactly what they sound like: purses that carry dogs or cats. Dog purses are stylish products for transporting puppies or small dogs and cats. They can come in handbag varieties, but are usually worn over the shoulder. Many a fashion dog carrier have soft interiors for added comfort.
However, many also do not have mesh sides, so doggos have to poke their heads out to get fresh air, and the lack of ventilation may cause him to overheat more easily.
Dog Purse Pros
Dog Purse Cons
Small breeds only
Typically not as well ventilated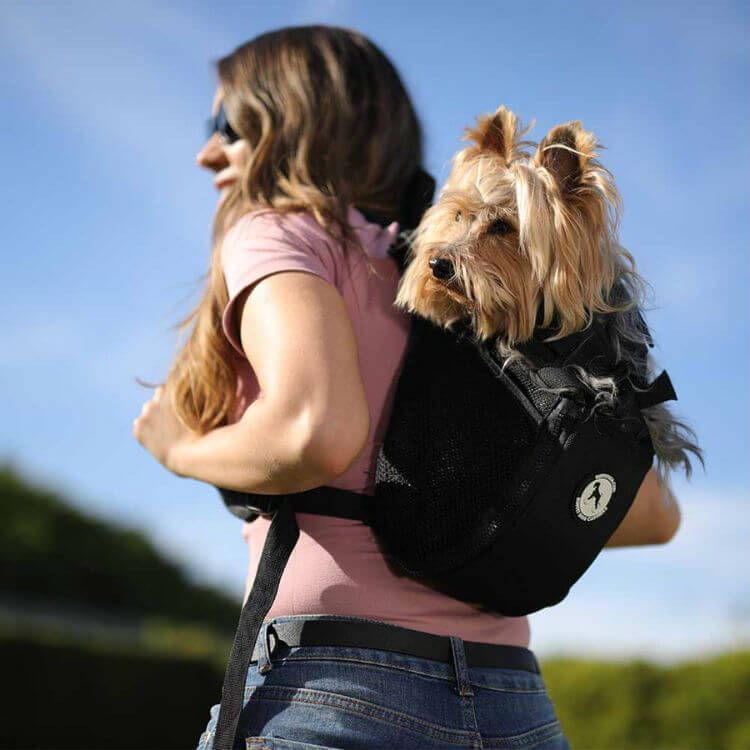 Size & Weight Considerations: Small, Medium, and Large
Now that we've discussed the different types of travel kennels, let's move on to size considerations. Carriers come in different sizes to provide the safest and most comfortable environment for your dog. Most will come in three different sizes: small, medium, and large.
Before you purchase a carrier, you need to factor in your dog's size and weight. A carrier that is too small for your dog will leave them feeling cramped, uncomfortable, or even frightened (pets can suffer from claustrophobia, too!) Since travel of any kind can be stressful for a dog, you want to make sure his temporary lodgings are as safe and comfortable as possible.
On the other end of the spectrum, too large of a carrier could result in your dog rolling, sliding, or being jostled around. This can be especially dangerous if your dog is in a moving vehicle like a car or in the cargo area of an airplane.
Luckily, there's a good formula for figuring out the perfect size for your dog's carrier. All you have to do is measure your dog's height, length, and weight.
Follow these easy steps to learn your dog's measurements:
1. Length: Measure your dog's back from his collar to the base of his tail. Take that number and add a few inches so your dog has a bit of wiggle room.
2. Height: Measure from the top of his shoulders to the ground. For a hard-sided carrier, add between three and five inches. For soft-sided carriers, you only need to add two to three inches.
3. Weight: Different brands may have slightly different weight classes. So, you should always check the packaging of each carrier to determine which size corresponds to your dog's weight. A dog may be a size small in one brand but fall into the medium class for a different brand.
Once you have a carrier picked out, you should allow your dog to get acquainted with it before traveling. When your dog uses the carrier for the first time, be sure to do a visual inspection to ensure it's a comfortable size for her.
Here are a few things to keep in mind when observing your pet in his or her new carrier:
It should be roomy enough for your dog to easily enter and exit, turn around, lie down, and stretch out comfortably.
If your dog appears cramped, has difficulty getting in or out, or can't sit or lie down, then this is probably a sign that the carrier is too small.
If your dog is wearing a collar or harness while in the carrier, watch to make sure there are not any areas in the carrier's interior where they could become snagged or immobilize your pet. For this reason, it is a good idea to remove collars and harnesses before your dog enters the carrier.
Other Features to Keep in Mind
Now that we've tackled the basics, we can look at a few bonus features that you may be interested in when searching for the perfect carrier. While these feature aren't strictly necessary, they do go above and beyond to add comfort and convenience while travelling with your dog.
Fleece lining
While not a standard feature, some carriers are lined with fleece on the interior. This provides additional warmth and comfort for your pet. If you live in an area that experiences cold winters, a fleece liner or bed is the perfect way to keep you dog warm while you two are on the go. Hard crates often need a bed added for extra comfort and warmth. Pets that travel with you on long trips in hard crates should definitely have something soft to lie on.
Wheels
The addition of wheels on a pet carrier can make transporting your pet easier. Wheels allow you to slide the carrier with great ease on the ground just like a wheeled luggage case, which alleviates much of the physical strain of having to carry your pet around by hand. This is especially beneficial if you plan on travelling a long distance with your pet, whether it's through a busy airport or running errands around the city where you live.
Extra pockets
While not available for hard crates, some soft crates, backpacks, and stroller-style carriers come with spare pockets. These additional storage spaces can be useful for carrying clean-up bags, food, treats, medication, or other pet gear. This will save you the hassle of having to dig through another bag or fill up your own pockets with your dog's essentials.
Added straps
Having a shoulder strap is included on many soft totes, which means owners can safely transport their pooch by hanging him over their shoulders. This frees up hands and also makes it easier to transport a pet for longer periods of time.
Airline-approved pet carrier status
Remember: different airlines will have different pet travel requirements. Be sure to check your airline's pet travel rules beforehand. After all, even airline-approved dog carriers will not necessarily meet the requirements of all airlines. If traveling within the United States, the Transportation Security Administration, or TSA, gives owners advice on what to expect for airport travel with a pet. The U.S. Department of State also provides information online for international pet travel.
Whether your pet carrier is soft sided or hard, it is important to ask yourself if it can fit under a typical cabin seat (if you do not want to board your pooch in cargo). This is where most pet travel kennels will need to be placed during the flight (again, if not in cargo.)
Choose the Best Carrier for Your Pet's Lifestyle
As you can see, the carriers available on the market come in a wide variety of practical and exciting designs. The best way to pick one out is to choose the one that best fits your lifestyle and needs. A carrier that works great for a long-haul flight might not be well-suited for a rugged hike through the woods or a jog through the neighborhood.
Once you determine the perfect style of carrier for you and your pet, it's time to pull out the measuring tape. Be sure to get the size that best matches your dog's height, length, and weight. Carriers typically come in small, medium, and large sizes. If the carrier is too small or too large for your dog, your pet will not be optimally secure or comfortable while riding in it. Instead, opt for one that safely accommodates your dog's size. Your pet will certainly appreciate it.
If traveling by air, make sure that you know your airline's animal travel regulations and restrictions. Approved pet carriers are ones that meet these requirements; buy something that does not meet them, and your beloved companion will not be able to travel with you.
Now that you've learned the basics of picking out a carrier, it's time to bring home the carrier best suited for the many adventures you and your pet will take together. Be safe and have fun!