Best Crossbow Reviews
Want to see our top picks at a glance? Check them out here! We've found some great items on the crossbow market that we think stand above their competition: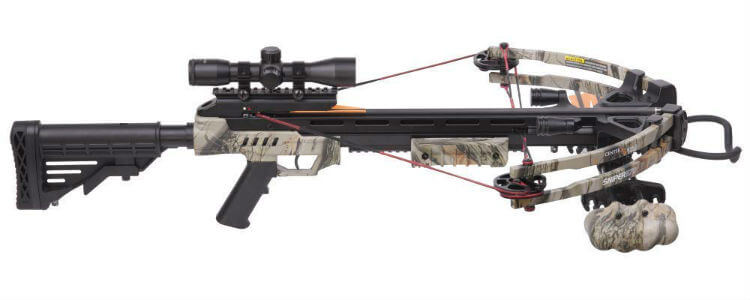 The Sniper 370 from CenterPoint tops our list with a 9.6 rating. What's so great about this item? Well, big game hunters will love this compound bow as it can fire as quickly as 370 feet per second (fps)! Even better? It's also pretty quiet, with high-quality integrated string suppressors to reduce vibrations. So, those looking for something with a lot of power without sacrificing stealth need look no further!
This impressive weapon also comes with extra goodies for hunters to enjoy. This package includes a scope, 3 bolts and a case for them, and rope cocking mechanism. Some hunters might prefer to swap out the included arrows for heavier duty ones, though.
This excellent weapon is definitely not for beginners, though. Its draw weight of 185 lbs can make it a bit harder for a new bow hunter to use, for one. It also goes for $238.88 (camo option) on Amazon. This price isn't bad at all for what you get, but it might be a bit much for a practice or first-time hunting crossbow. Don't worry, though! A bit of practice, and you can work your weigh up to this magnificent beast in no time.
Pros
Fires at 370 fps
Quiet firing
Added accessories
Cons
Draw weight can be hard for beginners to use
Included bolts might need upgrading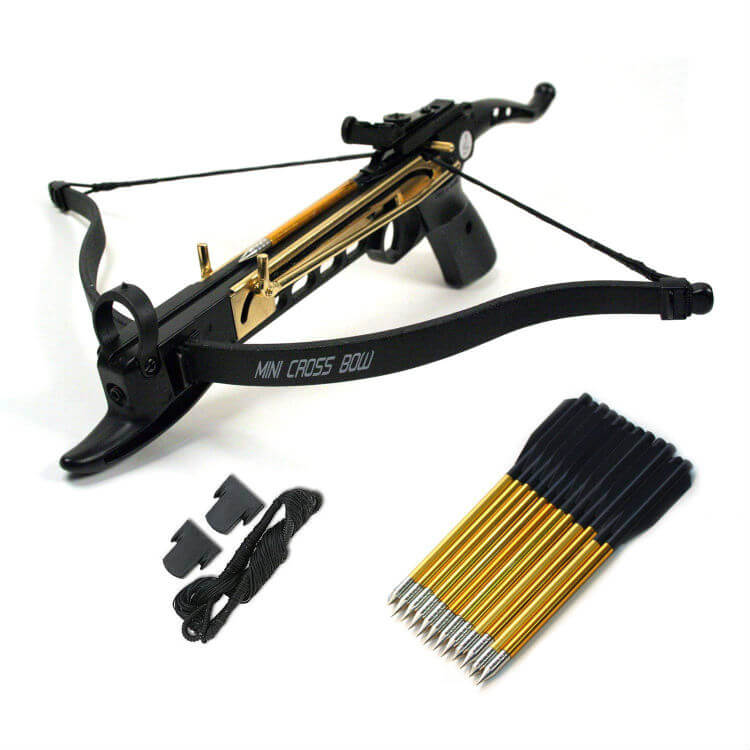 The Cobra System pistol crossbow from Ace Martial Arts Supply goes for $49.95 on Amazon, making it easy to fit into almost any budget. This purchase includes extra strings and almost 40 arrows! This mini bow is great for small game hunting. This 80-lb draw crossbow self-cocks, which can make it easy to use for beginners.
Please note, however, that this is a pistol crossbow. This essentially means that the overall size of this weapon is smaller, and the trigger on the stock looks like that of an actual firearm. They're can be great for small game hunting and leisurely shooting, but are not typically favored by professional shooters or big game hunters.
Pros
Great price
Good for small game hunting
Added accessories
Beginner-friendly
Cons
---
Best Accessories for a Crossbow Reviews
Okay, so we've taken a look at some of the best bows themselves. However, any archer or hunter worth their salt could tell you that add-ons can really enhance the experience. Read on for some information on what we at Top10 think are some pretty great crossbow accessories:
See also:
---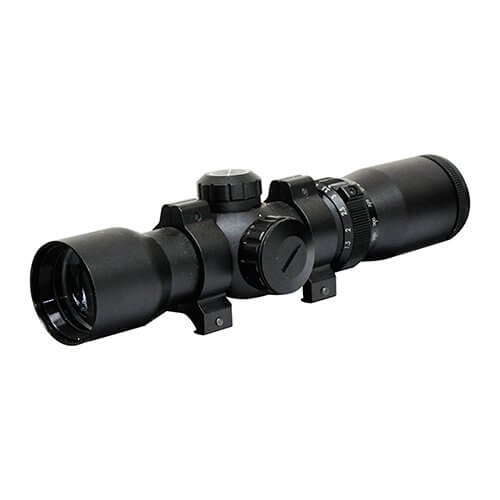 The Barnett 17056 40 mm scope is one of our favorite picks from our list of best crossbow scopes. This bad boy can work with bows between the ranges of 300 – 425 fps. It also is adjustable at 10-yard intervals between the ranges of 20 – 70 yards. Users can switch between a red or green light. However, this adjustable archery scope costs $166.13 on Amazon currently.
Pros
Nice range
Red or green sights options
Cons

Once again, Barnett comes out on top of our list of best bolts with a perfect 10 rating. This brand's outdoor carbon, 20-inch bolts come in packs of five. The price on Amazon is currently set at $34.43.
What're archers and hunters saying about these items? Well, their quality carbon construction makes them not only durable, but also lightweight for optimal performance. These babies can really shoot at a high velocity to deliver a compact but devastating blow. These shafts also fit a variety of bows, making them versatile shafts to use. While cheaper products are available to buy, we think it's worth it to invest in quality shafts for the absolute best experience.
Pros
Cons
---
As you can see, there's a lot on the market for archers and hunters today. The shear amount of information and products available today might overwhelming. But it doesn't have to be! Doing just a bit of research on products within a set price range can help make all the difference when it comes time to finally buy one. (We also recommend taking time to review legal and safety regulations in your area). Read on to learn more information about what to look for when you buy a crossbow.
---
The Best Crossbow Buyer's Guide: How to Buy the Best Crossbow
Easier to use and faster to shoot than a traditional bow, the crossbow is a great choice for both hunters and professional shooters alike. Hunting season is just around the corner. So, you may be thinking about taking up one of these bows for the first time. There are lots of designs on the market, though. It may not be obvious at first what best crossbow for your money and needs is. Whether it's for shooting or big game hunting, this buying guide can help you find a high-end crossbow best suited for you!
With crossbows, features to consider are design, speed, and accuracy. Generally speaking, the faster a bolt goes, the better the accuracy. This is simply due to the fact that if the bolt is moving slower, it has more time for air and other forces to throw it off of its mark. In other words, a faster bolt can reach its target with a decreased risk of outside forces throwing it off the target.
Recurve Crossbows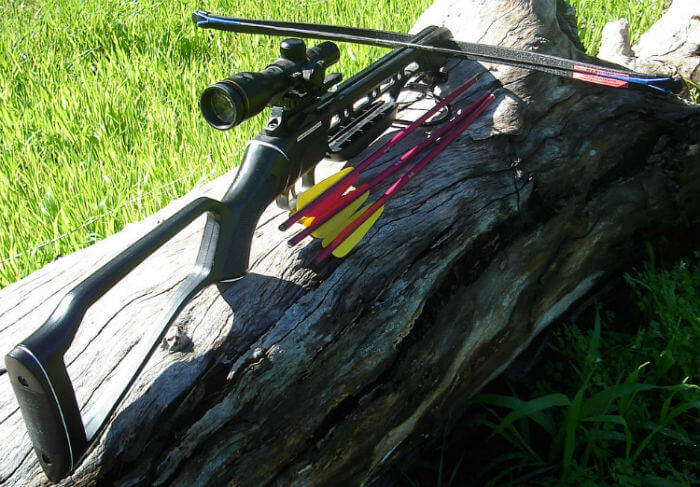 Perhaps the best crossbow beginners can use is the recurve crossbow.
Pros
Simple design for easier repairs. The strings' simple design makes them easily replaceable without a bow press. This is ideal if you live in an area without a bow repair shop. If something breaks, you can simply replace the strings yourself. Then, head back out into the shooting range or woods for some more crossbow hunting!
Lighter draw weight makes the trigger pull easier. The draw weight is also lighter than most. This lightness makes the trigger pull easier for some, including youth archers.
There are a few disadvantages to even the best recurve crossbow, though.
Cons
Difficult cocking. Many people just starting out will likely want a cocking device. This type of bow is more difficult than others to cock, so bringing along a cocking aid can quickly allow you to place your bolt (or quarrel) in the bow. Without one, you could be struggling to load it.
Slower bolts. The power stroke is also less powerful, making the quarrel slower. This could make aiming at a moving target difficult, even with the help of items like a red dot scope.
Wide frame decreases precision. The frame is also wider, which could make a shot less accurate.
Shorter serving life. Finally, because the trigger mechanism holds the peak weight during the time it is cocked, it can decrease the serving life of the bow.
In short, these bows might just be perfect for beginners. They typically have a light draw weight, so you can work up your strength while using them in preparation for a different bow with more pounds (lbs) of draw weight. The trade-off is less accuracy and potentially shorter serving life. This makes it work well as a first archery bow or one for crossbow hunting.
Compound Crossbows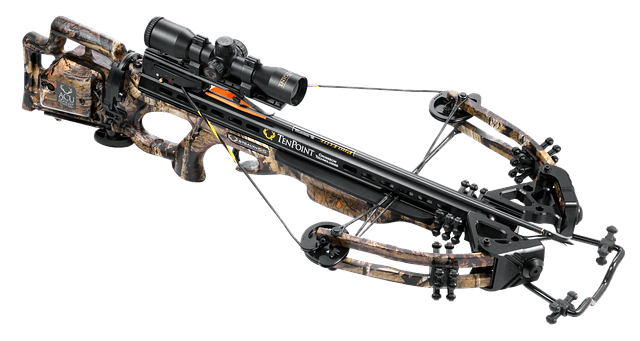 Experienced hunters and professional shooters might prefer the compound crossbow for heavy-duty performance and accuracy.
Pros
The performance of the compound differs from the recurve in several advantageous ways.
Faster firing. The largest difference between compounds and recurves is that compound bows contain pulley systems attached to shorter limbs. This typically makes firing faster and more accurate. Even when the draw weight (bow type doesn't matter) is the same, the compound will still fire at a higher velocity due to its design.
More powerful impacts. Along with this increase in arrow speed, the kinetic energy of the arrows can increase as well. This can lead to an impact with more power.
Quieter. Another advantage of this type of crossbow is that it is generally quieter. Its pulley system allows for a smooth firing action, which can make the trigger pull easier for some. We all know how easy to spook animals like deer are. If you're hunting and don't want to spook nearby game, this is an excellent additional feature to consider.
Slimmer frame. This bow's frame is also slimmer than the recurve. For hunters who need to squeeze into a tight spot or have limited mobility in a tree stand, the best compound is designed to fit into a compact space.
Less draw weight required. It also requires less draw weight to fire a quarrel at a high speed (compared to a recurve). Because the power stroke is much more powerful on a compound, you can still do a good deal of damage with fewer shots as well.
Lightweight limbs means easier bolt loading. Finally, because the limbs are lighter, it's less difficult to load a bolt. As such, you may not need a rope cocking device. It's always a good idea to bring one, though, just in case you need to use it.
To review, this bow is an excellent choice for many people. Quarrel precision is increased with the compound because of its faster firing. The crossbow, as a whole, is smaller than the recurve and can be used in tighter areas. Its pulley system additionally allows for easy loading of shafts and for quieter firing. These features make it attractive to experienced hunters and professional shooters alike.
Cons
However, there are a few disadvantages to these types of crossbows.
Complicated design makes for harder repairs. High-end crossbows in 2019 can be particularly complex. This means that if your compound crossbow breaks, you would have to know a lot about its inner workings in order to fix it. Complicated crossbow technologies mean that several accessories may be necessary to fix the bow if it breaks. These spare parts and tools can be a hassle to carry around. So, if your compound breaks while out in the field, you're going to have to stop your hunt early and head for the nearest repair shop. This might not make for the best hunting trip.
Heavier fronts make aiming harder. The nose carries more weight in this bow. This weight could make aiming awkward. Those who have to hold positions for a while should take this into account.
Speed
Obviously, different types of crossbows will have different speeds. Fps stands for how many feet a bolt can travel per second. For example, a 360 fps bow should deliver shots with enough power to have traveled 360 feet after one second. The average recurve bow will have a speed of 200-300 fps. This compares to the compound's average of 300-400 fps. On average, however, the compound will fire faster than the recurve because it has greater kinetic energy. While the grain of your arrows will also play a factor, you can usually increase the fps with draw weight increases.
Consider Size and Stature
Another aspect to consider when selecting a crossbow is how it fits you. After all, you're going to be slugging this device around rough terrain. Or, for those professional shooters out there, you're going to have to hold the bow to line up your aim. If it doesn't quite fit, it doesn't matter what kind of bow it is – you're going to have a rough time of it.
Physical strength is also a factor to consider. Much like the traditional longbow, there is an element of strength required to use crossbows. This is particularly true when it comes to cocking the bow. There are devices out there – like a rope cocking device – that can provide help here. Rope cocking effectively reduces the weight needed to cock the device.
At the end of the day, however, you will still need some strength in order to use the device at all. You may need to lift some weights to build the strength these devices require.
The power stroke should also be considered. The longer it is, the longer your own arms need to be in order to utilize it. If you happen to be a bit shorter, you might want a bow that has a smaller stroke. Longer strokes usually mean more powerful shots. For example, a 12 inch power stroke would likely deliver a more devastating shot than one with 9 inches, due to kinetic energy.
Finally, you should consider the weight of the crossbow. As mentioned before, a compound's nose is going to be quite heavy. If it proves to be too heavy for the user, he/she won't be able to line up a shot accurately. Any chance of bringing down some game or hitting a target is going to be null. The same goes for crossbows as a whole. If a particular bow proves to be too heavy, the user is not going to have a good time carrying it around, let alone shouldering it after finding a target.
Usage
The best crossbow reviews will tell you that one of the most effective ways to choose a great crossbow for you is to decide how you will use it. Once you have that figured out, you can usually rule out other crossbows.
Let's say you like professional shooting. For this sport, size isn't much of an issue. It comes down to your personal comfort and what strength you're most comfortable using when aiming and firing. If you tend to stay in the shoulder position for a while, then you may want a crossbow that has a lighter weight on the nose; this can put less strain on your body. This is especially true if you have to shoot a couple of times during a match. In other words, increased strain on the body reduces the accuracy of the shot.
If you like hunting, the opposite is true when it comes to size. The smaller the crossbow, the better time you'll have in the field. In this regard, you should take a look at the distance from the outside of one tip of a limb to the tip of the other limb. The shorter that distance, the better. Because a compact crossbow is easier to manage, you can easily climb a tree stand or a blind. Bows built with long limbs can hit the sides of the blind or stand, after all.
Reducing Noise
Another important consideration for hunters is being able to reduce noise. If a bolt doesn't move fast enough, noise could startle intended game away. The noise could also alert other game in the area, making it difficult to find new targets. Hunters who want to reduce the noise of their crossbows might want to buy string suppressor systems and limb vibration dampeners. These help lessen the vibrations that make the noise in the first place.
Scopes
A great accessory to include on a crossbow is a scope. Both hunters and professional shooters alike can appreciate the use of a good one. However, as you might imagine, there are various kinds of scopes. Hunters may want to opt for the scope that comes with an illuminated red dot sight or crosshair. This is especially helpful for those who prefer to hunt before the sun rises or when the sun sets. Because it's going to be difficult to see out there – and hunters can't exactly shine a flashlight – the illuminated dots or crosshairs will be helpful in finding (and hitting) a target.
Hunters and professional shooters may also want to consider acquiring a scope that offers different distance sightings. The (usually) red dot in the middle is typically set at 20 or sometimes 30 yards. However, there are scopes that offer multiple distance sightings. This means that they will have additional lines beneath that to offer a greater variety of distances. This is useful if you are shooting at multiple targets and distances. Without having to change the scope every time, they can fire more quickly and increase the odds of hitting their targets. There are plenty on the market available for a great price! As always, review why and where you will use a crossbow before deciding on any particular design or added features.
Price
It's important to check the price of the bow you're interested in purchasing. To be sure, it is possible to pay too much for a certain product. It's also possible that there is a great, new, 2019-model bow available at a low cost. However, oftentimes a price that seems too good to be true probably is. (This is why checking user reviews beforehand can really come in handy!)
These weapons often range from about $150 to a few thousand. Add accessories, and it'll be even more. A recurve bow kit, for instance, can range from about $90 to a few hundred. The final bill will largely depend on the brand, type of bow, and features added.
Again, cheaper (and more expensive) options are available – these are just typical market prices. Review the brand and specific product beforehand to better ensure that what you buy is high quality. After doing research, you may find that you will have to increase your expected budget a little bit. That's okay! A safe, quality bow is better than a cheap one that will break easily, after all.
Safety and Health Considerations
The most important thing to check before heading out to the field is safety protocol! Whether hunting or shooting, everyone needs to review the crossbow regulations in their area.
Crossbows are great, when used properly. But at the end of the day, they are still dangerous weapons. Without proper attention or care, it can be very easy to misuse one and cause an accident. Always properly store, set up, and put away your weapons before and after every trip. It's also important to replace parts of a bow, like strings or field points, when they become too used and worn out. If a part of the bow breaks, always consult an expert about whether the bow can be repaired or if it will need to be replaced entirely. Using a piece of broken equipment is never a safe idea.
It's also important to know your own limits. Don't start out with a bow that's too big or has too heavy a draw weight before you're ready. You can accidentally hurt yourself or damage your equipment if you push yourself too soon. Be honest with yourself about your own limitations. It's perfectly okay to use items like a rope cocking aid to help you out if you're not yet strong enough to cock the bow on your own!
Final Thoughts
The best crossbow is the one that fits your personal needs and price range. Hopefully, this crossbow review guide has helped you gain a better of understanding of what to look when buying crossbows. Remember: different bows work best for different people! Know your own needs, limitations, and experience before finalizing any purchasing decisions. Most importantly, though, make sure that you check the regulations in your area before buying anything (and follow proper safety protocol!)
Disclaimers/Image Credit*
Cover photo(s) used under license from Shutterstock.com. Baiajaku/Shutterstock.com
At the time of writing, prices and ratings are correct and products are in stock at Amazon. The views and opinions expressed in this article are those of the authors and do not necessarily reflect the official policy or position of the site owner or any brands and companies mentioned here. This article is purely for reference purposes and does not constitute professional advice and may not be reflective of the best choice for your unique situation. This site strives to provide as much accurate information as possible; however, sometimes products, prices, and other details are subject to change. Therefore, this site does not verify for the accuracy of the information presented in this article. This site does not assume any liability for any sort of damages arising from your use of this site and any third party content and services.