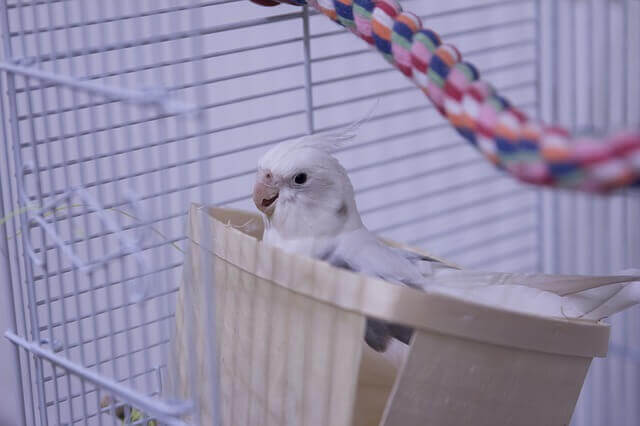 Whether you're already the proud owner of a loving, sweet cockatiel or doing your research before bringing one home, perhaps the most important decision you will need to make is choosing the right cage. After all, you're picking out a home for your pet! You will want the bird to have a happy place to live, play, and sleep.
You've come to the right place to learn about picking the best cockatiel cage for your feathered friend to rest (when she isn't riding on your shoulder).
---
How to Pick the Perfect Cockatiel Bird Cage
Any pet shop will have a few cheap enclosure options. Higher-quality cages tend to come at a higher price tag. It's vital that you choose a safe and durable option. Sturdy bars, well-built connectors, and secure doors are a must to ensure your pet's safety and well-being.
Size and Bar Spacing
Size and bar spacing are two of the most important factors in picking out the best bird cage for a parrot species, such as a cockatiel. As a general rule of thumb for any avian species, the bigger the enclosure you can afford and have proper space for, the better. Birds of any size will love to have extra space to play, hop around, and fly. A flight bird cage is an enclosure specially designed to allow its occupants room to glide around and is a great option for pet owners with enough space for one.
A small parrot like the cockatiel, however, can do just fine in a medium-sized enclosure. It is important that it's at least 24 inches tall and long enough that your pet can comfortably spread her wings.
It's also extremely important to look for proper bar spacing in the cage you choose. All parrots, including cockatiels, are quite wily. They can often find escape routes in any enclosure. Bars spaced too far apart can result in escape or injury to your bird. Some birds have even poked their heads through bars, only to get their heads stuck and accidentally kill themselves trying to wiggle free. Don't let this unfortunate scenario play out in your household. Look for bar spacing of 5/8th or 1/2 inch.
Construction Materials
Since many birdies like to chew and gnaw at cage bars, it is crucial to choose an enclosure constructed with non-toxic materials like stainless steel. Ideally, choosing something made from stainless steel would be the most durable and safe option.
Powder-coated steel is usually safe. Unfortunately, however, some pets might be able to eventually chip off some coating and ingest it, which could lead to health problems. Owners should never purchase a birdcage coated with easily chipped paint or other hazardous materials.
---
Cockatiels are hookbills, meaning they have a hooked beak that is perfect for grabbing and climbing. Choose a cage with horizontal bars. Your birdie will love climbing and playing on the sides!
You will also want to make sure the cage you choose offers plenty of free room for necessary supplies like toys. In particular, owners should put at least two to three perches that are around four inches in diameter. Excellent cockatiel perch materials include wood, rope, or hardened sand. Always check that the materials in these toys are safe for your specific species of bird.
To make your life a little easier, you might also consider a cage with a slide-out pan or tray on the bottom. This will make keeping your feathered friend's space tidy a breeze. A clean enclosure can help keeps its occupants healthy!
---
Final Thoughts
When it comes to small parrots, cockatiels are a delight to own. They are gentle natured and love to cuddle and spend time with their owners. Because of their small size and gentle nature, though, larger and more aggressive species might bully cockatiels when enclosed together. For that reason, a cockatiel will likely be happiest and healthiest when in a space that is all her own.
Remember: small birds can be okay in small cages. However, more space means more room to play, which can make your pet happier. When selecting an enclosure, make sure it is large enough for an animal to comfortably stretch her wings. It must also have extra space for accessories like toys and feeders. The price tag might be higher for a bigger space, but a happier pet is well worth the cost.
Follow these guidelines and you can ensure your feathered friend will have a safe and welcoming home.
---
Disclaimers: This article is not intended to replace the advice of a veterinarian. Any comments, questions, or concerns should be directed to a licensed professional. The Association of Avian Veterinarians (AAV) offers a search engine for finding such individuals in your area.