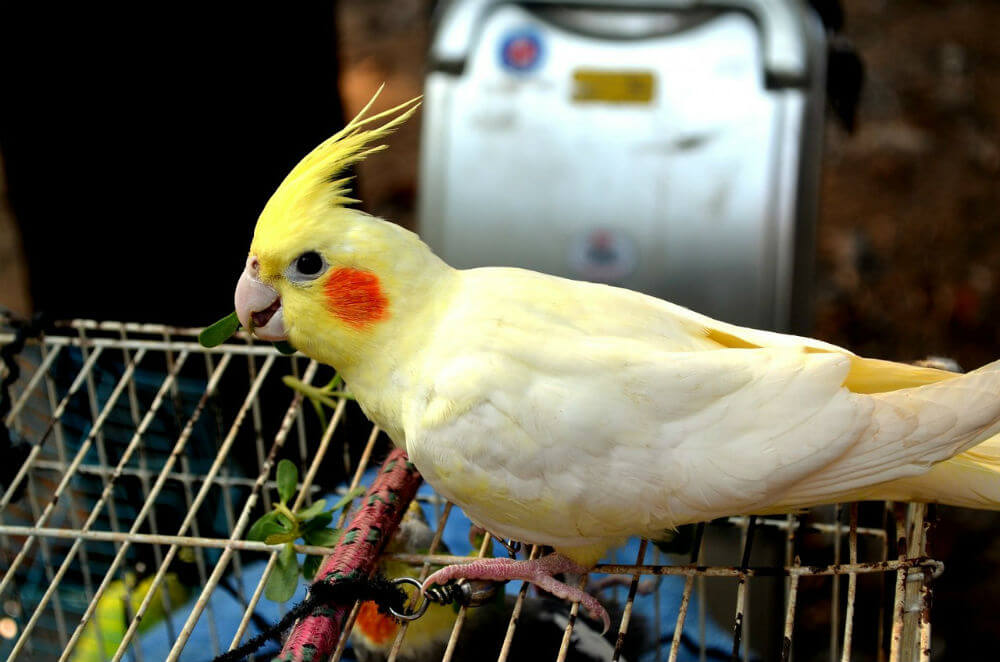 Birds, or aves, are some of the best companions to bring into any home. They like to play and their curious nature is quite entertaining to watch. Providing some toys and gadgets in their cages is a great way to ensure they have plenty of enrichment. After all, environment plays a big role in a bird's comfort and happiness. An empty cage will lead to boredom, which also leads to the pet feeling restless. Having accessories in a birdcage gives its occupants colors to focus on, textures to rub up against, and even a place to sit.
Just as important as play are other accessories that responsible pet owners should have in order to properly care for their feathered friends. These items range from feeding and watering dishes to baths to liners for easy clean-ups and more. Pet parents will be happy to know that accessories are available for different sizes and species. This makes it easier to cater to a specific bird's needs.
Furnishing A Birdcage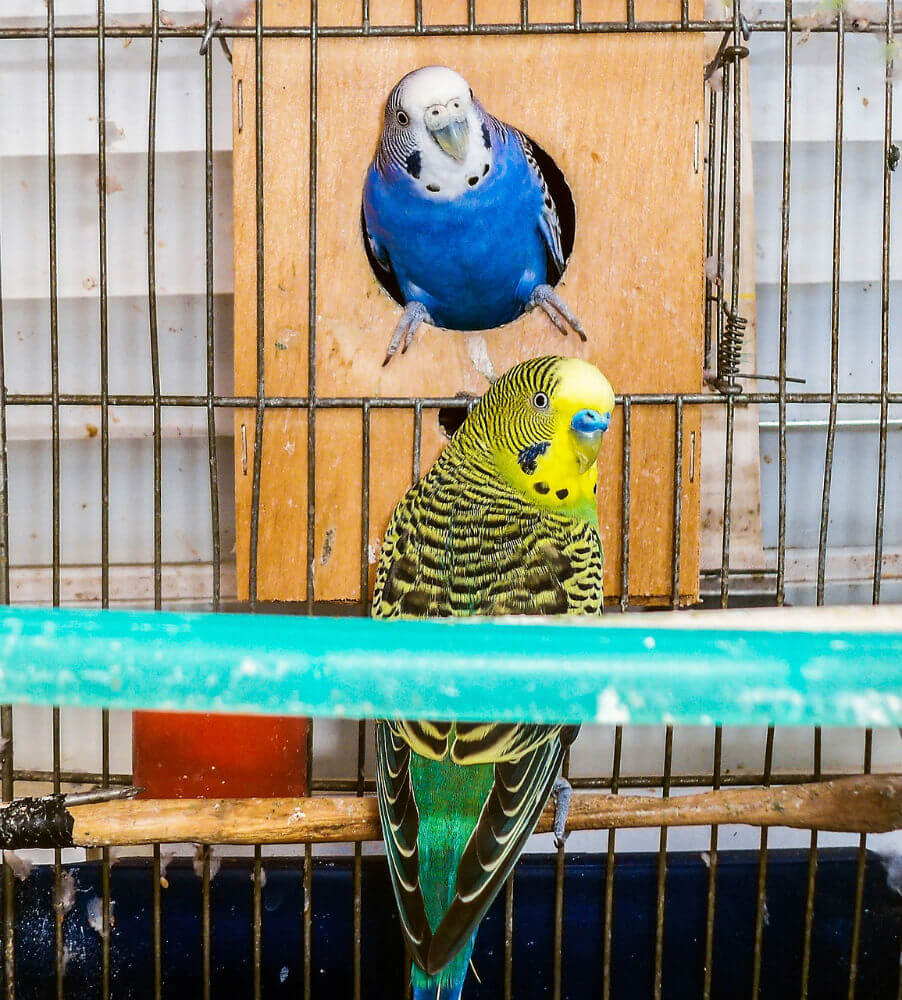 Furniture
It is important to furnish an ave's living quarters. Specific pieces of furniture can include perches, ladders, and swings. These enriching items provide birds options for different activities like swinging and resting. When picking a cage, it's not a bad idea to go for one that has some extra free space. That way there's plenty of space to set up multiple perches at different levels.
Because not all birds are alike, it is important to get the correct size of perches and swings for a specific animal. A small pet like a parakeet will need a slimmer perch to sit on; it would have a hard time resting on a perch sized for a large cockatiel. The wrong perch size can lead to foot injuries and even arthritis!
Toys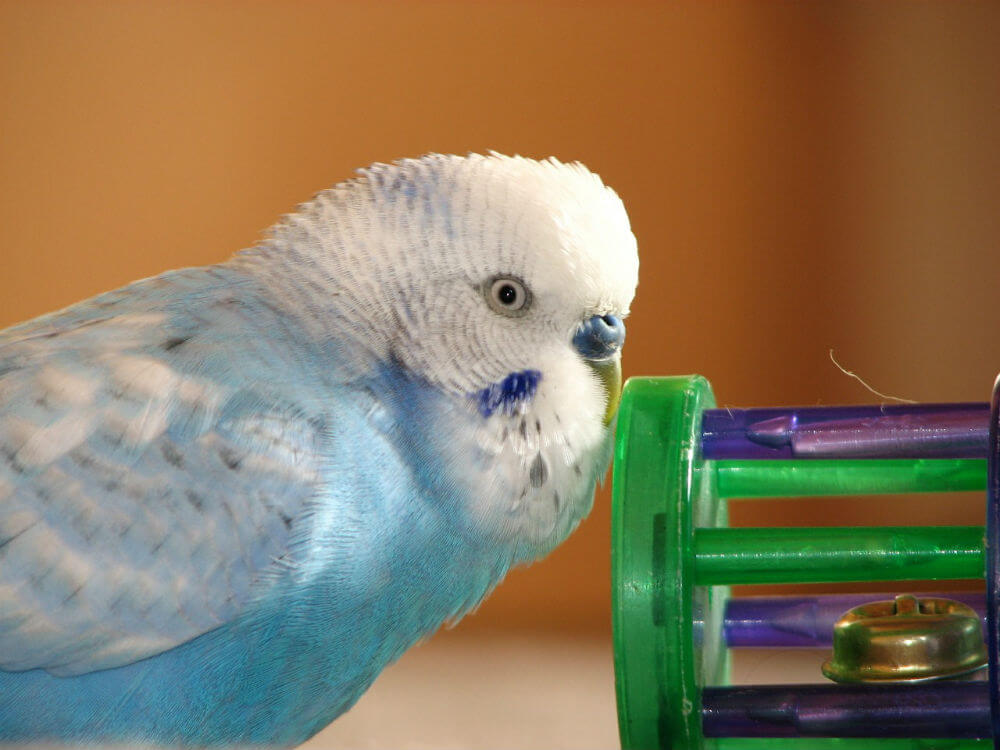 It's possible for an ave to develop behavioral and health problems if it doesn't have any relief from boredom. This is where purchasing bird toys can come in handy. Some toys can be placed outside the cage while others are specifically designed for birdcages. Small toys and mirrors are great for a small pet bird like a parakeet. Larger species can handle more durable playthings, such as those made with hard plastic. Shiny objects, bright colors, and mirror images are always a win, no matter the size of the bird. Just make sure the toy itself is species specific.
Parakeets
These little guys like to gnaw on their own specific toys. Their beaks are not strong enough to break most playthings. It is, however, normal to replace wooden toys regularly as the parakeet slowly gnaws on it. When is it time to replace a chewed wood toy? When it gets to the point where a parakeet can accidentally swallow it (or parts of it). Rope toys are great for parakeets, too. They also like sound, so a rope with bells is also something to consider. Pet parents should stay away from the bells that have holes in the ball, though. A parakeet's small foot can get caught in the hole!
Cockatiels
If something shiny is within reach, there's a good chance a cockatiel will try to play with it. Not all materials are safe for cockatiels, though. These animals like to chew. Really chew. So owners should shop around for products that are free of toxic or poisonous materials. Safe toys for a cockatiel are those made with hard plastic, shreddable bird kabobs, and chewable perches. Unsafe toys are those made with plastic, rope, cloth, fibers, and wood; they can end up ingesting these materials as they break off from constant chewing. The pieces can get stuck in the bird's throat and create a potentially fatal blockage.
Parrots
These aves have keen eyesight and can see the full spectrum of color. Needless to say, they love to play with colorful things! Parrots also love to chew, though, so not all colored toys are safe. Pet parents must find parrot-safe toys that are free from paint, varnish, glue, chemicals, and other toxins. Chain link toys and hooks are okay, but owners will need to supervise their pets while they play with these knickknacks to ensure beaks don't get stuck in any chains. Hard plastic, acrylic, and natural wood playthings are also good choices for this species. They also like to climb, so ladders for parrots are popular. Cotton and rope varieties are unsafe, since the fibers can shred off and be ingested while the parrot chews on the toy.
Bird Bath for a Cage
A wild bird can make use of natural water sources or manmade bird baths in order to clean himself. A pet will unfortunately not have the option of finding a stream indoors. A cage bird bath will instead allow them the opportunity to clean themselves, helping them stay happy and healthy. Like other birdcage accessories, baths must be sized according to species. In other words, bigger birds will need bigger baths while smaller pets will do just fine in a smaller one. In order to avoid (or at least reduce) spills, pet parents should only fill these accessories halfway rather than to the brim.
Bird Water Bottles and Feeders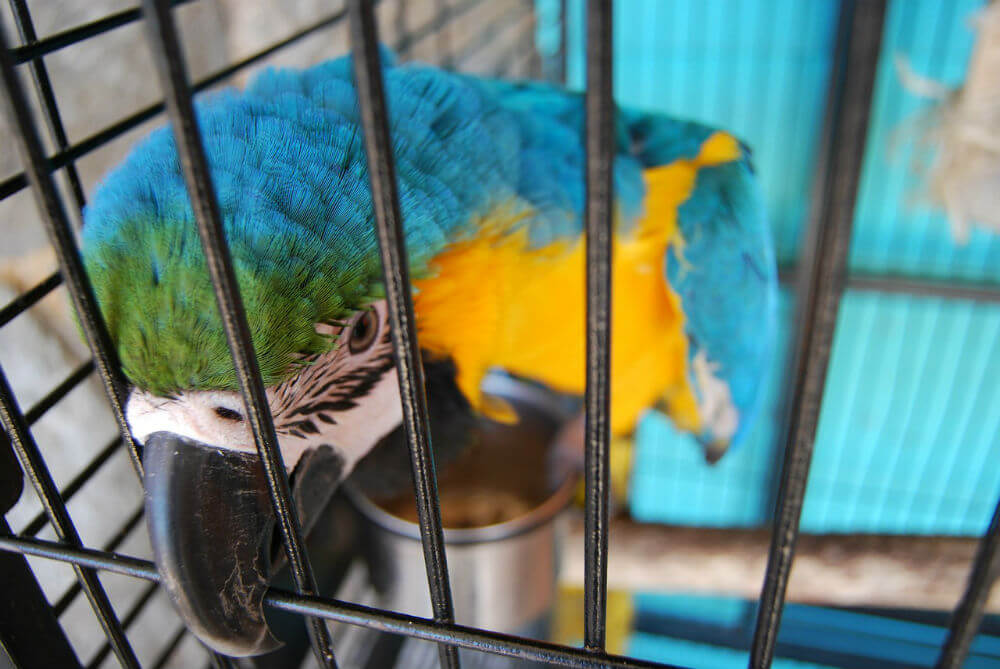 Pet birds should have access to food and fresh water at all times. Water feeder bowls that attach to the inside (or outside) of the cage are easy to clean and keep sanitary. They also help to contain the mess that birds make when they sift through feed and water. Feeders with built-in perches help make it easier for pets to get food and water out of their bowls.
Owners should get feeding bowls that are appropriate for their specific pet. This helps with maintaining portion control. Putting a large cockatiel bowl in a parakeet cage will likely result in the budgie eating too much. This can lead to unwanted weight gain. Obesity in pets can lead to a variety of health problems, according to VCA Hospitals.
Busy pet parents might consider an automatic feeder. It's easy enough to pop the lid off the top and add more food and water as needed. They're great time savers, keeping nourishment readily available for beloved aves. In many designs, husks will gather at the bottom of the feeder in a small trash compartment, making clean-ups easier. Most of these feeders can hold enough food and water for nearly two weeks! Of course, those feeding multiple animals with one feeder will need to refill it more frequently. And, of course, the overall capacity will vary by product.
Bird Cage Covers
A bird cage cover will be much more valuable to both owners and their beloved companions than they may realize. Having a black cage cover over the cage at night gives birdie a sense of security while it's alone in a quiet, sleeping house. It also helps to regulate an animal's sleep, since the cover blocks any visual stimulation outside of the cage. Owners who put a cover over a cage before they go to sleep for the night can help their birds eventually establish sleeping patterns that mirror their own. This helps owners get a good night of sleep as well, since their feathered friends won't be making noises in the middle of the night.
Bird Cage Skirts
There's no way around it: birds can make quite a mess for such small animals! Bird seed gets knocked to the floor. Shedding feathers float out of bird cages. Water can splash out at any time. A birdcage skirt helps to eliminate some of this mess. It's designed to fit securely around the enclosure to keep most of a pet's mess inside the enclosure itself, instead of on the living room floor. Most skirts are even machine washable, so pet parents can just slip them off and toss them into the washing machine when it's time to clean. Then, all owners need to do is simply slip the skirt back over the bottom of the cage when it's all dry.
Bird Cage Liners
Since pet birds can't leave their cages to find clean homes when poop and debris piles up on their enclosures' floors, it's important that owners be responsible and clean their pets' cages regularly. Avian poop begins to smell before long. Even worse (yes, worse) is the fact that the bacteria in the waste is incredibly harmful to the owner, bird, family, and other pets. So, it's better to simply clean the cage at least every other day.
A bird cage liner makes this chore a little easier. Newspaper lining is an okay choice, but it needs to be black and white ink only. The dyes in the colored ink can be toxic for birds. Of course, there are other paper liners available at the pet shop as well. Owners can place several layers of paper at a time, and just remove the top layer each time they clean it. Those who use this method must be aware that water and droppings can soak through the papers. So, it may be necessary to remove multiple layers at a time, as opposed to just one.
Bird cage trays are another alternative for pet parents looking for a less wasteful way to efficiently keep birdie's area clean. These trays catch waste and dropped seed. Owners can then easily remove and clean them before returning them to their original spot. Unlike paper liners or newspapers, they are reusable.
Owners should never wash trays or other bird supplies in a kitchen sink or other area where it could create the potential for cross-contamination. A kitchen sink can harbor toxic bacteria left over from cleaning pet supplies and transfer them to plates and dishes. This could pose serious health hazards to people, according to the Centers for Disease Control and Prevention (CDC).
Bird Cage Stands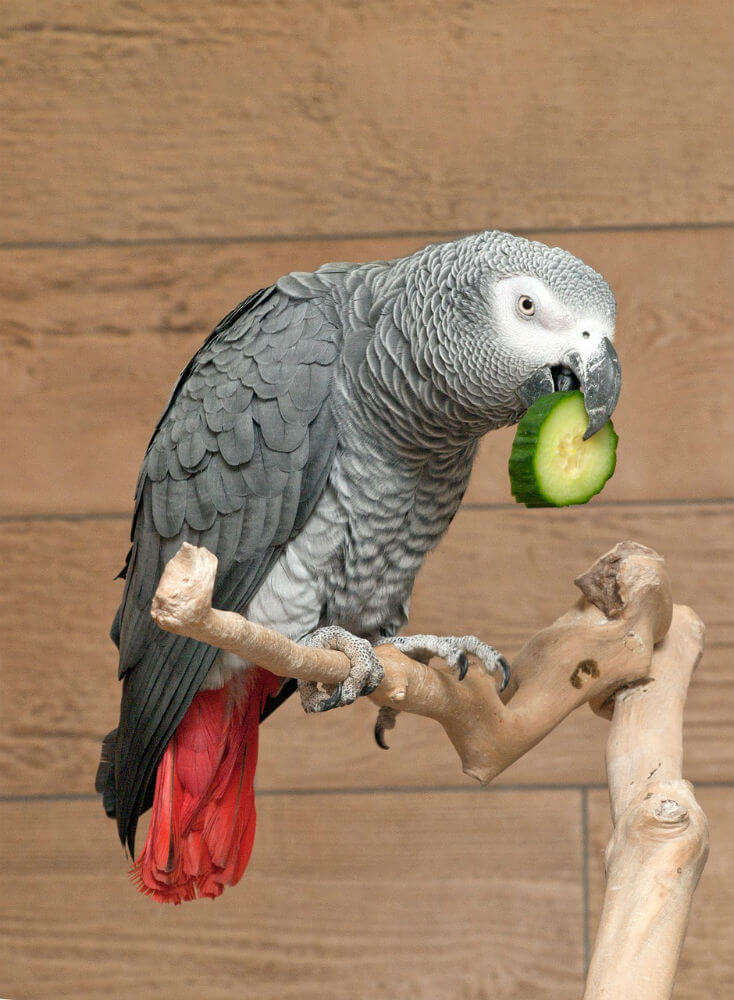 When it comes to birdcage stands, there are a few designs and styles from which to choose. From rolling stands on wheels to four-legged stationary stands to pole stands, owners will find they have quite a few options to fit whatever it is they are looking for. Some stands even have a more upscale look. They're made to look like a piece of furniture, like an end table.
Using a stand, as opposed to a cage that hangs from the ceiling, gives owners the option to move the birdcage from time to time with greater ease. With a hanging cage, there is a limit to where it can be placed. This is great for those that don't like to change their rooms around every now and again. However, those who do enjoy changing the layout of a room may find a cage that uses a stand will be better suited to their needs.
Final Thoughts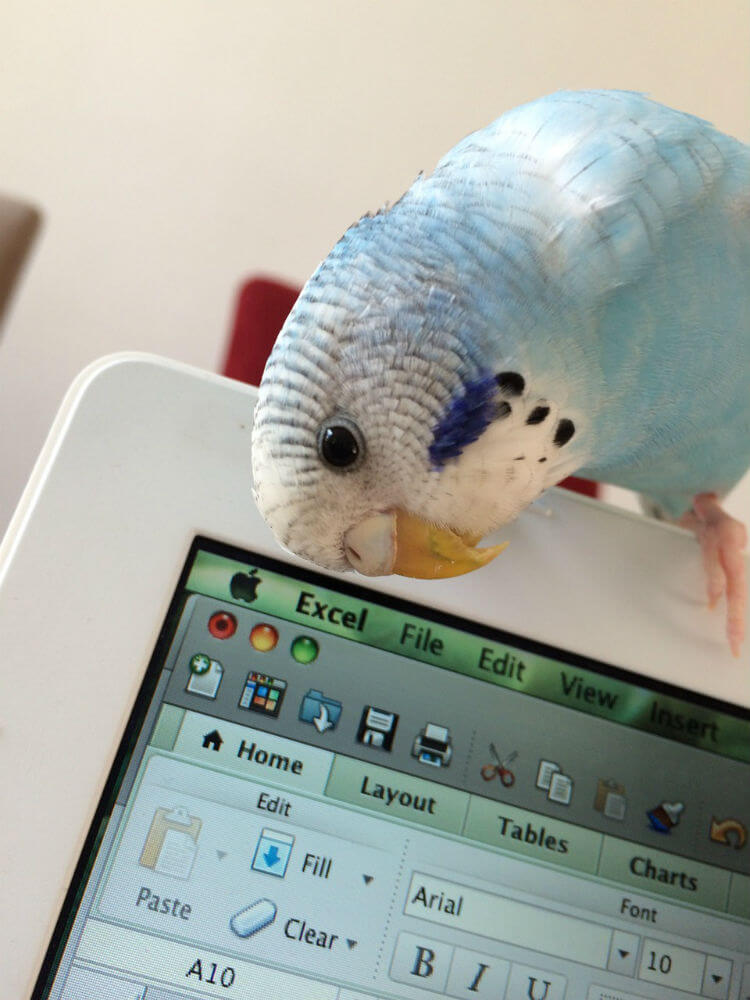 Buying birdcage accessories doesn't have to be a daunting task! There are a lot of options when it comes to cages, toys, food, and stands. Plenty of these items are species specific, making the search for the ultimate pet products, supplies, and accessories that much easier. When owners are out and about shopping at the local pet shop or browsing around online, they'll be able to shop for the specific type of bird they own.
Like other types of pet, these feathered friends become like members of the family. It just makes sense that pet parents want to spoil them and make them feel loved. Adding some furniture, toys, and treats to a bird's cage is just one way to shower beloved pets with the affection they deserve.
---
Disclaimers
This article should not replace the advice of a veterinarian. Any comments, questions, or concerns about the safety of specific cages & accessories should be directed toward a licensed professional.