Best Bird Aviary Reviews
You want the best life for your feather friend, so why not give him a safe place to fly around? A bird aviary can safely let your beloved pet get the exercise he craves. Check out some of our top aviary picks, then hop on down to our buyer's guide below to learn more about picking out the best aviary for your birdie!
The Medium Walk-in Aviary from A&E Cage Co. tops our list of the best bird aviaries. This walk-in bird house is the perfect place to let your friend stretch his wings and catch a breeze. With total dimensions equaling 62 inches by 62 inches by 79 inches, this enclosure is definitely suited for outdoor use. Don't worry, though; the wrought iron construction means this tough cage can stand up to the wear and tear of the outdoors. What's particularly nice about this model is that the powder-coated finish is non-toxic.
Pros
Good size
Wrought iron design
Non-toxic powdered finish
2 stainless steel bowls included
Cons
---
The wonline Large Walk-in Bird Cage is the highest-rated extra-large aviary on our list, measuring in at 60.8 inches by 86.7 inches by 81.3 inches. The roughly three-quarter-inch spacing between bars means this stainless steel enclosure can safely house several species of birds with reduced risk of escape or injury. Added perks of this bird cage include a top cover, wooden perches, feeder doors with attached bowls, and non-toxic powder-coated finish.
Pros
Good value
Extra large
Top cover for added protection
Stainless steel construction
Non-toxic powder coating
---
Aviaries can be expensive. If you want to spoil your feathered friend on a budget, check out the Corner Aviary Bird Cage from A&E Cage Company. The size and structure of this aviary make it great for indoor use, where you can safely tuck it into a corner. Since this aviary is a bit smaller than the others on our list, it is ideal for small to maybe medium-sized birds like canaries or conures. This enclosure also includes wooden perches and feeding stations, making the whole space just a bit cozier for your beloved pet.
Pros
Price
2 wooden perches
2 feeding stations
Slide-out grille and tray for easier cleaning
Cons
---
Best Bird Aviary Buying Guide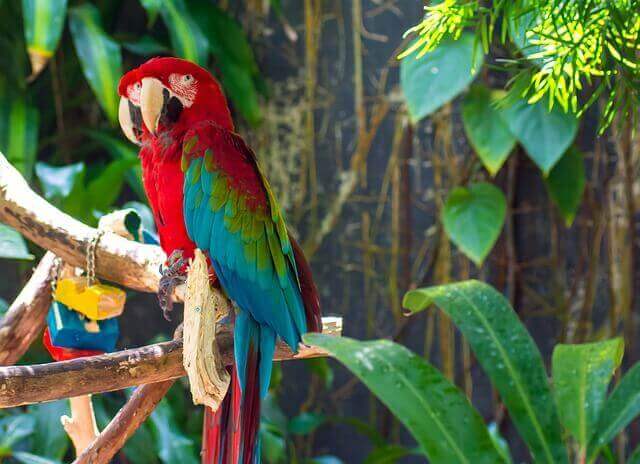 Aviaries are large enclosures that give birds the room to fly and move around comfortably while they stay protected from other animals. Bird owners can use an aviary as an upscale chicken coop or an exercise area for otherwise inside pets. Many people place aviaries outdoors because of their size, but there are a large variety of designs made for indoor use as well.
See also:
---
What Species Would Enjoy an Outdoor Bird Aviary?
Many species love the freedom that comes from aviaries. While large birds like parrots and cockatiels will obviously enjoy a larger enclosure, smaller birds can also find joy in such a space; lovebirds, lorikeets, budgies, and finches all thrive in aviaries. Doves and pigeons also do well in exterior aviaries.
Owners should install proper insulation and heating devices if the birds will be outside during colder months. This step is especially important for animals that come from tropical climates. During warmer times, shade is an important consideration. After all, an aviary's occupants will need a reprieve from the summer heat.
---
Construction Materials
Quality aviaries of nearly any material are safe for indoor use. Exterior ones, however, must be durable enough to withstand the weather and any potential predators. A predator can be a large bird like a hawk or even a small animal like a pet cat.
The structure of the enclosure should be a durable wood or heavy-duty metal.
Wooden Varieties: Owners who choose wooden varieties must make sure that their pets do not chip off and ingest splinters. Additionally, these enclosures must be free of harmful materials, such as easily chipped paint. A stunning wooden aviary can certainly complete the look of any space. Just make sure it has a solid design to withstand years of use.
Metal Varieties: Wrought iron is useful because it is decorative as well as corrosion-resistant, but it does often come at a higher price. Stainless steel is a popular alternative because it is also safe against most corrosion and incredibly strong. These are the construction materials for most outdoor bird aviaries.
---
Bar Spacing and Alignment
Horizontal or vertical bars on bird cages offer enough protection inside. For outdoor use, however, enclosures require a strong metal mesh. Mesh enables birds to have a clear view of their surroundings while also protecting them from predators small and large. A heavy-duty stainless-steel mesh also prevents large birds like parrots from cutting through with their beaks. For smaller pets, owners should make sure their animals cannot escape through too-big spaces in said mesh. Always review the product dimensions before finalizing any purchase!
---
Size
Size depends on the number and species of birds in the shelter. Even a small animal needs a cage with enough space for her to spread her wings. Cages for small birds should have at least two feet of height and two feet of width and depth. Bird cages for large animals will need at least five feet of height and four feet of depth. Pet parents should add at least half as much of these dimensions to the aviary for each added occupant. For example, an aviary for two small birds should be about three feet in width and depth.
---
How to Turn Aviaries into Chicken Coops
Aviaries to chicken coops? It is possible, and only takes a few simple additions. Interested individuals can do this by creating a fully enclosed and insulated section with perches and boxes. They should then set up shop where it is possible to use heat lamps or other heating devices in chilly weather. Most people install aviaries on a concrete slab for easier cleaning; however, placing the shelter on bare ground or grass allows chickens to walk and graze during the day.
---
Final Thoughts
Aviaries give birds a place to spread their wings and get a little exercise. These cages make it easier for owners to add enriching items to keep the pets entertained. Exterior bird cages allow their occupants to be in a natural environment with the benefits of fresh air and sunlight. An aviary is a home worth the investment for anyone that wants to keep a happy healthy bird!
Disclaimers
Product manufacturers have not independently verified the information on this page regarding the best birds aviary. Prices and rating are correct and items are in stock at Amazon at the time of writing. This article is not to replace the advice of a licensed veterinarian. Contact your vet to discuss any comments, questions, or concerns you may have regarding the safety of pet products like an aviary or birdcage.