---
When you get the news that you are expecting a new baby, many things may go through your mind. This is some of the most important news you are likely to receive, so it is understandable that you will have many questions about how to best provide for your newborn. You're going to need to prepare many things, including all of the supplies that are required to keep babies pampered and healthy during their first years of life.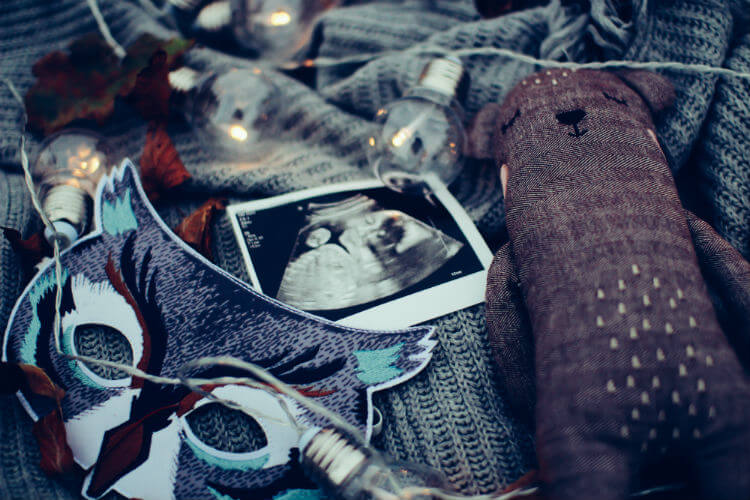 Even people who have raised children before will likely need to purchase many items all over again for each new child. For instance, a diaper bag is likely to wear out before it can be handed down. Some parents furthermore might have specific needs and so prefer to shop for these items new rather than accept gifts of second-hand goods or hand-me-downs.
This handy guide can help you navigate baby essentials: what you'll need and what you don't really need, so you can make sure you're getting the best baby products and save money while you do so.
See also:
---
Feeding Essentials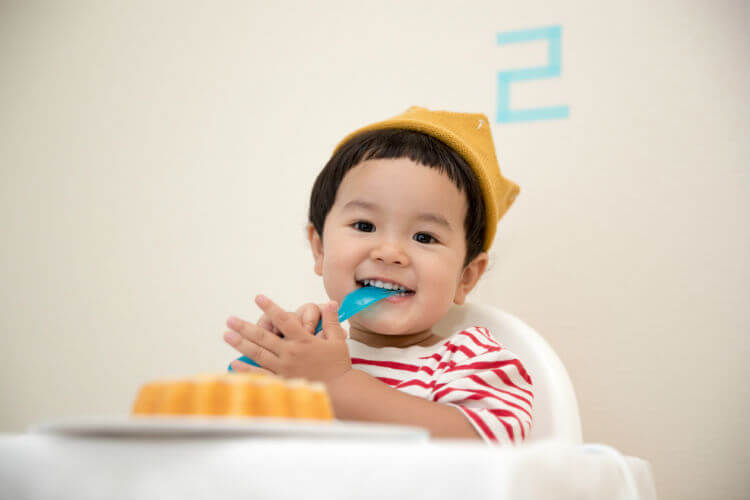 Newborn baby essentials will definitely include baby food and other feeding items, like a breast pump or milk storage bags. There's certainly a lot to consider when deciding what's the best way for you personally to nurture your child.
Quick Checklist for Feeding Essentials
If breastfeeding, you should also look into the following:
Breastfeeding v Bottle Feeding
Parents may have strong feelings regarding breastfeeding and formula use. In fact, for many, those feelings their shopping choices. There are several valid reasons someone may opt for breastfeeding over bottle feeding and vice versa. Sometimes, a combination of both is the best option for a family.
Some people might wish to postpone this decision until after the baby arrives. While this might seem like a wise decision, having a few key items on hand can make life much easier during the first few hectic weeks of a newborn's life.
Breastfeeding Essentials
For those who are planning to breastfeed, a nursing pillow and breast pump will help make both the mother and infant's life easier and more comfortable. A nursing pillow is used to create the right support for parent and child during the nursing experience. A breast pump will extract milk for storage during times when a mother has to be away from the baby. Parents have the options of either single or double breast pumps; in other words, some pumps can extract milk from both breasts in one sitting. Pumps can be either:
Different types of pumps can be better suited for different parenting styles and preferences. Manual pumps can be great because they require no outlet or batteries to power them; all you need are your hands to manually pump breast milk. However, this type of pumping can grow tiresome and might take longer for some people.
Automatic pumps might work better for others. Battery-powered pumps require batteries to operate. This makes them extremely portable, although they also require that a constant supply of batteries be on hand. Electric pumps require an outlet or other power source to function, which can limit where they are used, although they might not be as tiresome to use as a manual pump or require the purchasing of batteries as a battery-powered one would. Note that many automatic breast pumps can use both batteries or be plugged into an outlet.
Because nursing can be stressful on a mother's body, you'll want to get some extra items to make this process easier on her. Since nursing cause nipples to become sore, nipple cream with lanolin is a great option to soothe the pain. Lanolin is a gentle plant-based product and is safe for both the mother and child. You'll also want to invest in nursing pads. These are absorbent pads that a mother wears when she breastfeeds, since her breasts will leak during this time.
Bottle Feeding Essentials
Formula feeding is another option for nourishing your child, either as a supplement to or replacement for breastfeeding. Today, there are plenty of great baby formula options on the market that can provide your baby with the proper nutrients he or she needs to grow. Formula can be sold either as a powder formula or liquid formula. Powder, on average, tends to cost a little less than liquid formula.
Feeding Accessories
Whether breastfeeding or bottle feeding, there are certain feeding accessories that will always come in handy.
Milk Storage Bags
Milk storage bags are one such accessory. These items help keep breast milk preserved in a leak-free container that can be taken on the go in the correct portion. Each bag should be relatively easy to handle and can be stacked in an insulated carrying case. Many parents choose to invest in one of these carrying cases, especially if they are feeding multiple infants or expect to be preparing many bottles away from home.
Burping Cloths
Burping cloths will also be necessary. Infants need to be gently burped after feeding, since they are unable to do so on their own. Oftentimes, babies will burp up a little bit of their meal during this process. A burping cloth can catch the mess this produces, making clean-ups after burping much simpler.
Baby Bottles and Other Utensils
Bottles will be necessary for feeding your infant, even if you breastfeed (hence the breast pump). These come in a variety of styles, so parents will need to research different options to determine which are best for their family. High-quality plastic baby bottles are easy to store and are relatively inexpensive. They are also usually lightweight, making it easier for babies to hold on their own eventually. Glass baby bottles are another option. Although they are typically heavier, they can also be easier to clean and are free of any potential plastic chemicals, making them an attractive option for many parents.
Parents can choose to add baby-sized bowls and spoons in anticipation of introducing solid foods to a child's diet at the optimal time. Some utensils might come in handy even with baby-led weaning. Durable, sturdy plastic is a good choice since this is a heat-resistant material that is easy to wash and keep clean. Melamine is a heavy-duty, rigid plastic that often comes in vivid colors; this material is also a popular choice in the manufacture of high-quality children's dishes. Some parents prefer stainless steel dishes because of the ease of use and long-lasting durability of this material.
Bottle Warmers
Babies need warm milk; bottle warmers are designed to safely heat up filled baby bottles to an appropriate temperature for your baby to consume. However, even with a quality warmer, always check the heat of the bottle before you give it to your baby. This way, you can avoid accidentally giving them something too hot.
Cleaning Supplies
Cleaning supplies are also necessities. A bottle brush and bottle sterilizer are two great items to have when cleaning your bottles. A bottle brush is a gentle, specially designed brush to help you manually clean your bottles. Bottle sterilizers are specially designed machines that hold a set number of bottles (and sometimes other baby items, like pacifiers) while they sterilize them through processes like steaming. They can be a great idea if you are worried about water in your area being contaminated.
---
Diapering Essentials
How to change your baby's diapers is another important consideration to think about. Babies have no control over their bodily functions and need to have diaper changes several times each day. So, naturally, this process requires lots of supplies!
Quick Diapering Essentials Checklist:
Cloth Diapers v Disposable Diapers
Ultimately, parents must decide for themselves whether disposable or reusable diapers—or a combination of both!—are right for them. Each has its own advantages and drawbacks that expectant parents and caregivers should consider.
Cloth Diapers
To cut down expenses and waste generated by the diapering process, more and more parents are turning to reusable cloth diapers. These can be laundered at home. Just make sure to always clean reusable diapers thoroughly and properly to reduce the risk of infections or diaper rash.
If using cloth diapers, be sure to bring plenty of bags with which to contain them in your diaper bag. You can't throw them away, after all. And if you're in public? Well, you'll need something to keep them contained before you can get home to wash them.
It might also be a good idea to have a kind of diaper pail next to your changing table to store these diapers between washes.
Disposable Diapers
When it comes to convenience, it's hard to beat disposable diapers. For parents on the go, disposables can be easily discarded, while a dirty reusable needs to be carried along until it can be washed. It's also easy to tuck a few extras in a diaper bag in case your baby requires multiple changes. Furthermore, babysitters may be less familiar with a reusable diaper; they may need additional instruction to change them. However, most people are quite comfortable with typical disposable diapers.
If you use disposable diapers, you'll probably want a diaper genie, which is a specialized trashcan where you throw away dirty diapers. They are designed to lock in odors, so it's worth the cost to invest in a good one! They can go right next to your changing station for maximum convenience.
The largest drawback to using disposables is that you'll need lots of them, so the costs can quickly add up. They also contribute to a lot of waste in landfills, so you might want to avoid them if you want to be environmentally friendly.
Diaper Rash Cream, Baby Powder, and Gentle Wipes
No matter what type of diaper you use, rash cream is a necessity. There are lots of reasons why your baby can get a rash, from being left in a soiled diaper too long to changes in food. As such, having some diaper rash cream on hand is necessary to help soothe your baby if a rash occurs. Using both gentle wipes and baby powder after changing out a dirty diaper can help reduce the chances of your child getting a rash.
Changing Table
You'll need a clean, designated spot in your home to change your baby's diapers. A quality, specially designed changing table is great because it has built-in storage drawers and shelves for keeping all of the essentials close at hand. Make sure the table you choose has a flat surface for your baby to lie on and is at a proper height for you or whoever will be changing the diaper. Changing tables are available at a variety of price points, so parents should have no trouble finding one that will suit their budget.
Diapering on the Go: Diaper Bag and Baby Changing Mat
A diaper bag will be necessary for parents on the go. Room for changing supplies (other than lots of diapers), like powder and wipes, is key. Also, be sure that there is room for a baby changing mat, which is a clean surface where you can complete the diaper changing process.
Today there are lots of different styles of diaper bags, so anyone can find one that not only has all of the pockets and space they need, but look good while they take care of baby. If you want to splurge a little, designer bags exist as well.
---
Baby Transport Essentials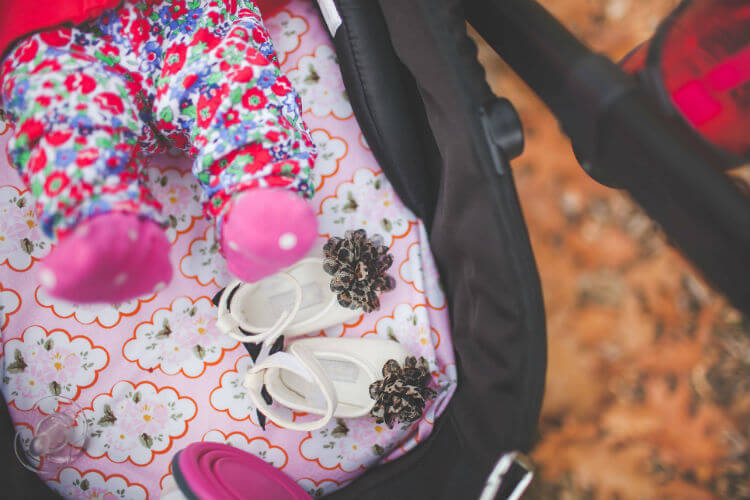 Baby carriers, or methods of baby transport, are necessary items for those who are expecting. From strollers to car seats, you'll need something safe to carry your baby in.
Baby Transport Checklist
While you won't need these items right away, it might be a good idea to look into the following sooner rather than later:
Infant Car Seats and Convertible Car Seats
The two primary types of baby car seats are infant and convertible seats. If you deliver in a hospital, you will definitely need a safe, brand-new infant car seat to transport your little one home. An infant car seat is designed for infants and smaller babies. So, they are rear-facing and typically have a weight limit of 35 pounds.
A convertible car seat will fit larger children and can be either rear- or front-facing. These types of car seats won't be needed for a few months. However, researching quality seats early can come in handy when it's time to move your child up to the next seat. Always read official instructions for the proper installation of a child safety seat to ensure your child is better protected in case of an accident.
Also, make sure to always purchase a child's car seat new. Beware of secondhand dealers or private sellers, because car seats cannot be resold legally; it doesn't matter if the secondhand seller claims it was lightly used or even never used at all. This law is in place to ensure that each item is as safe as possible, in line with the most updated regulations and research.
Baby Carriers
Baby carriers allow people to carry babies with them in a hands-free manner. They can hold a child either in front of or behind the wearer. There are several different types of carriers, including backpack carriers and baby wraps or baby slings.
Be careful if you opt for a baby sling, however. Some types of slings have generated safety concerns. In particular, bag sling carriers are considered less than safe, and entities like Consumer Reports have urged recalls on these types of carriers.
Baby Strollers
When you're ready to take your baby outside the home, you'll probably want a stroller. There are several types of strollers available for families on the go. Some basic types of strollers include:
Umbrella strollers - An umbrella stroller, or convertible stroller, is a stroller that parents can fold up and is typically lightweight. These features make this type of baby stroller easily transportable.

Full-size strollers - This type of stroller usually cannot be folded up. This variety is generally a bit heavier and sturdier.

Jogging strollers - This type of stroller is for parents who enjoy running and want to take their child with them. A jogging stroller is designed to absorb shocks and impacts that occur while someone is jogging with a stroller. (Want some more info on jogging strollers? Check out our product reviews here.)

Double strollers - If you have twins or otherwise have two babies to transport at once, you might want to look into a double stroller. This type of stroller can carry two babies at once, and the seats can either be side by side or one in front of the other.
Whatever type of stroller you decide on, be sure that there is some sort of "roof" on it. This can help shield your child from the sun.
---
Baby Bathing Essentials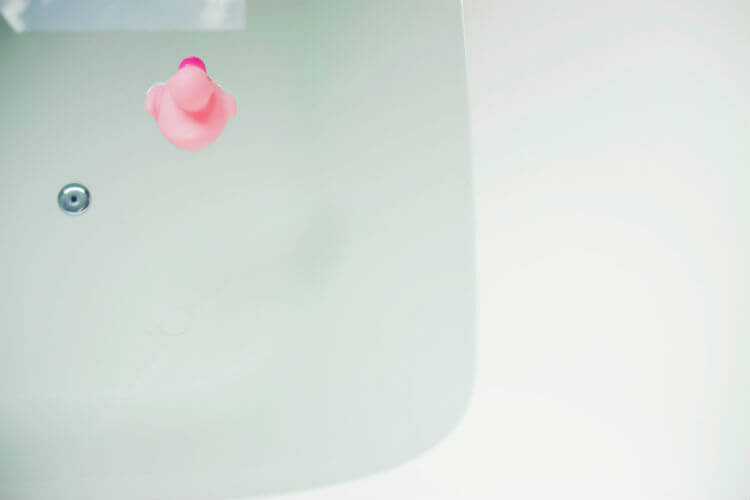 Bath time. Love it or hate it, it's going to become an inevitable part of your new life. Having figured out what you need for your specific bath-time routine well before your infant arrives can make this process a lot less stressful.
Baby Bathing Essentials Checklist
Baby Bath Seat
The first question to ask yourself is where you'll establish a bath-time routine with your new baby. If it will be in a clean sink or tub, finding a baby bath seat will be essential. Infant bath seats will hold babies safely in place as you wash them. Make sure that these seats have non-slip bottoms or suction cups to ensure they stay in place. You can also purchase specially designed baby bath tubs to wash your infant in. These tubs are small and sturdy, with built-in seats to support your infant. Be sure to keep up with the cleaning and maintenance of these seats and tubs so they'll be safe; failure to do so could result in health hazards, such as mold.
Need some extra guidance on buying baby bath seats or want to check out some product reviews? You can see our in-depth baby bath seat guide here.
Baby Soap, Shampoo, and Lotion
Now that you've figured out a place to wash your baby, you'll need something to clean them with. Finding baby soap and shampoo specifically designed for infants is important. After all, you want to know that you're washing your baby with something that will be gentle on their delicate skin. There are plenty of great, safe baby soaps available today. Some even come with scents that are designed to calm your baby, which can be helpful if you take baths right before bedtime.
When looking for shampoo, check to see that it's tear free. Unfortunately, accidents happen; at some point, sudsy water will probably run into your baby's eyes. Finding a good tear-free shampoo is important to lessen the irritation of your baby's eyes. Note that there are plenty of two-in-one baby soap and shampoo options available from trusted brands.
If your baby has particularly sensitive skin, it might be a good idea to look into baby lotion. Since a baby's skin is more prone to drying out right after a bath, using lotion designed just for them right after bath time can help your baby's skin stay smooth and hydrated. Oftentimes, retailers will sell soap, shampoo, and lotion together in convenient packs.
Baby Towels and Washcloths
You'll probably need a washcloth to help you clean your baby. Selecting quality washcloths that will be gentle on your baby's skin is important to making bath time a better experience for all involved. Always make sure to use a clean washcloth for each bath. Fortunately, there are relatively cheap multipacks of high-quality washcloths available. So, you can postpone laundry day a little bit while still keeping your child clean and healthy.
When bath time is over, you'll need something to dry your little one off. There are plenty of soft towels on the market that will be gentle on your child's skin. Even better, these towels come in a variety of shapes, sizes, and designs. Hooded baby towels are especially popular right now, as they can keep your baby from getting too cold after bath time.
Baby Bath Toys
When it's time to move your baby to a larger tub, you can introduce toys to their bath-time routine and make it fun! As with any other toy for children or babies, make sure that toys for the bath are designed in such a way that they could not pose a choking hazard. Furthermore, always check that they are made of safe materials. When selecting baby bath toys, see if they will be easy for you to dry off after each bath. If you don't clean toys properly after each bath, they will likely mold, making them unsafe for your child.
---
Baby Registry Checklist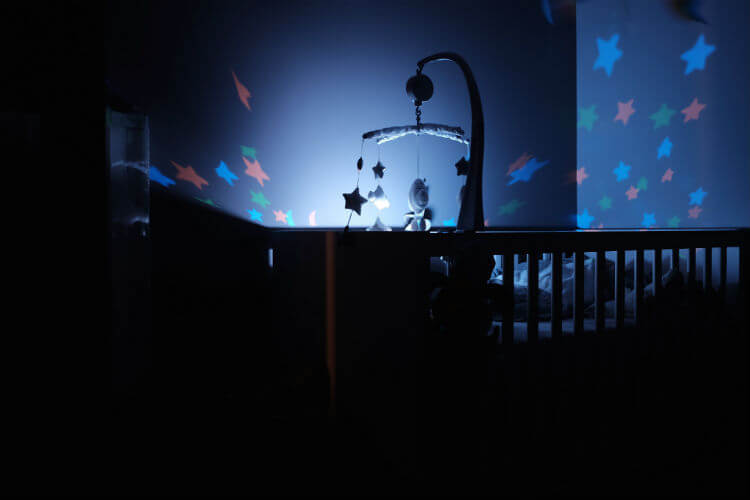 When planning a baby shower, creating a baby registry is one way to save money and eliminate hassle for your guests. Essentially, a baby shower registry is a shopping guide the expectant parents create and share with their guests. This guide helps the guests know what the parents most want to receive as gifts. It also helps prevent guests from purchasing duplicate items or other products that the parents might not want. Registries contain items at a variety of price points, which can help parents acquire items that they may struggle to otherwise obtain, like a technologically advanced baby monitor.
There are several ways to create a registry, including visiting stores in person or using online tools through participating retailers. There are a few steps to take when making a baby registry to ensure maximum efficiency and convenience. Want to know how to make the best baby registry? Read on below!
1. Make sure your registry is created well in advance of your event. This allows your guests plenty of time to shop. Your registry's information should be included as part of your invitation. So, make sure that all of the registry's information is correct before sending out your invitations.
2. Verify that the registry's email address and parents' names are spelled correctly. These simple errors can prevent people from accessing a registry, which can prevent guests from placing their gift orders.
3. Next, create a registry with a variety of items. You will certainly need lots of newborn items, but also consider items that will be needed in the first six months or so. For example, think about clothing required in different seasons or occasions. For example, a baby might be born in the summer, but will definitely require warmer clothes for the winter before you know it.
4. Remember that holidays usually bring lots of toys for infants, so adding toys to a list might not be necessary.
---
Ways to Save Money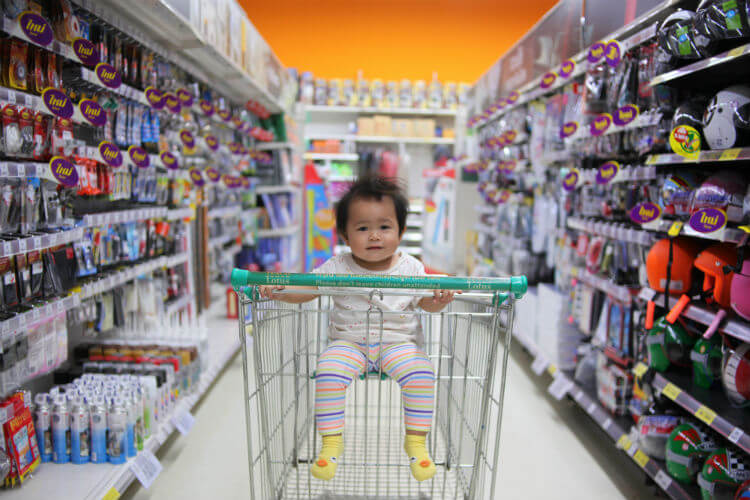 Saving money is important for every parent. It's only natural to be thinking about how to budget for a new member of the family. If you have a large extended family, you can ask around for secondhand or lightly used clothing. Babies generally grow out of clothing too fast for it to become terribly worn, so you can probably find lots of it still in good quality.
Signing up for online newsletters and electronic coupons is another good way to get great deals on items that you need to buy frequently. A quick search online will help you find many coupon codes; they can help you save on the things that your family needs on a regular basis. You can also sign up for mailing lists that will send you coupons on a regular basis.
Some items, such as towels and washcloths, are sometimes marketed as being for babies and then sold at a premium. These things are typically not any different than a standard item except for their color, pattern, or size. You can save money by purchasing a standard variety instead of an expensive for-baby version. Be a savvy shopper and ask yourself what makes the baby version so special. If it really delivers some distinctive health or safety benefit to an infant, it's worth the extra cost. If not, you can save your money.
Storage is one area that parents often struggle with, especially in terms of cost. There is no need to purchase expensive dressers and chests that have a nursery theme unless you really want to. A plain dresser is perfectly adequate for storing baby clothing, shoes, carrying bags, and other items. A short bookcase with a solid base can be used to store toys and other items. Because most children's furniture ends up pretty battered, most experienced parents don't want to spend a lot of money on these items anyway. It might be better to purchase a dresser in decent condition from an online classified ad and put leftover money towards purchasing a higher quality changing table or baby carrier.
---
Conclusion
Trying to gather the essentials a baby will need can be a stressful process. Hopefully we've made it a little less so, leaving you more time to plan for other essentials when you finally bring your baby home.
Disclaimers
Disclaimers:The views and opinions expressed in this article are those of the authors and do not necessarily reflect the official policy or position of the site owner or any brands and companies mentioned here. This article is purely for reference purposes and does not constitute professional advice and may not be reflective of the best choice for your unique situation. This site strives to provide as much accurate information as possible; however, sometimes products, prices, and other details are subject to change. Therefore, this site does not verify for the accuracy of the information presented in this article. This site does not assume any liability for any sort of damages arising from your use of this site and any third party content and services.